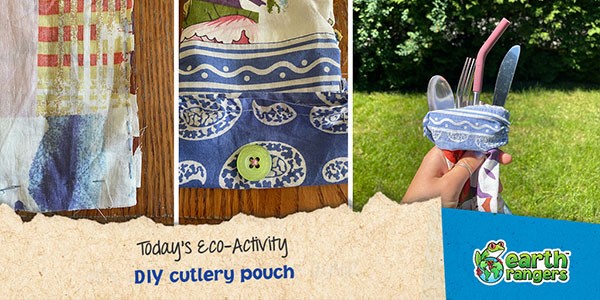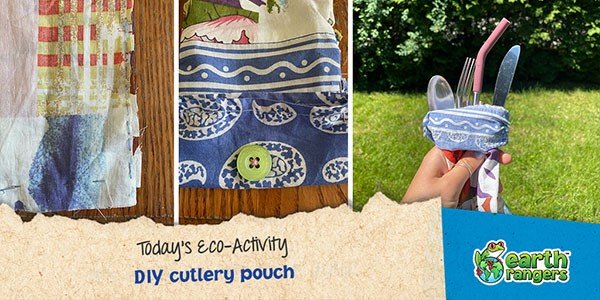 You've got your reusable bottle, your reusable grocery bags and you're on your way to saying "so long" to all single-use plastics. But you've run into a problem: your reusable cutlery is rolling around in your bag and getting all gross. Sounds like you could use an awesome DIY cutlery pouch!
Check out the instructions below, or follow along with this video.
Here's what you need:
A big piece of scrap fabric
Something to draw with that won't show through the fabric, like a pencil
Needle and thread
Button (optional)
Here's how to make it:
Cut two rectangular pieces out of your fabric. Make sure they are longer and wider than your cutlery set. The bigger the better as you can always cut off the extra fabric
Put the two nice sides of your fabric together so you're looking at the plain side. Place your cutlery set on the fabric, leaving a few inches at the top. Draw a box around the sides and along the bottom
Sew up the sides and bottom using the box as your guide. Keep about a half an inch of fabric around the outside and trim off the rest.
Flip your fabric inside-out so that the nice side is facing outwards, and put your cutlery in to make sure it fits
Fold the top part of your fabric over the cutlery. This will be the flap that keeps your pouch closed. Make a mental note of where the flap meets the rest of the pouch
Take your cutlery out, and sew a button onto the pouch in a spot that will connect with the flap.
Cut a small hole in the flap that lines up with the button. Make sure it's big enough for the button to fit through snugly
Put your cutlery set inside, close and fasten your pouch, and voila! Stash your pouch in your bag to make sure you never need single-use plastic cutlery again!