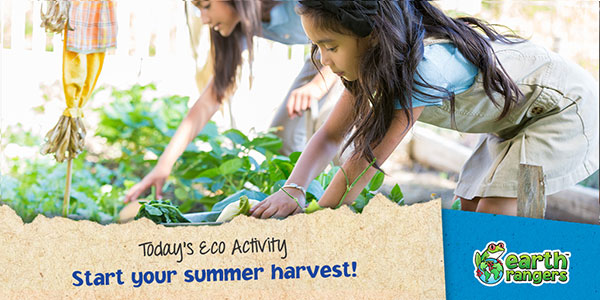 Summer is here, and that means all of the delicious, bright coloured fruits and veggies are also popping out of the soil too!
In most areas of Canada, summer doesn't last too long, making this season and all of the beautiful produce we grow during these warm months all the more precious. For today's eco-activity we suggest heading out to a local fruit or vegetable farm to go pick your own produce for some summer fun! Whether you're picking strawberries, cherries, peaches or melons, you will surely enjoy your haul of local goods!
How to get started on your harvest adventures:
With a parent or guardian, find a local farm that allows you to pick your own produce! Certain farms might specialize in specific produce, so make sure to pick your favourite.
If possible, bring reusable produce bags, carrying bags, and repurposed baskets – often the farm will provide baskets or bags to place your freshly picked fruit inside, but going with a reusable or repurposed option is an excellent idea to reduce waste!
Make sure to wear sunscreen and bring a hat to protect yourself from the strong summer sun.
Be inquisitive! Consider asking the farmer or employees some questions about the farm and the harvest. Here are some questions below that you can ask yourself while picking your favourite produce:

What other plants, insects, or animals are nearby, what are they doing?
What does the field or orchard look like?
How long does the crop take to grow?
Do these specific crops grow better together?



Take home your well-earned bounty to enjoy!

Eat your produce fresh and raw, or try a new recipe to transform your summer goodies into a lovely dessert, jam, or preservative!