Earth Rangers Headquarters are thrilled to announce the 2020 Battery Blitz Contest winners! But first, our team at Earth Rangers and Call2Recycle want to send a big shout-out to ALL of your incredible Earth-saving work! Thanks to the AMAZING work Earth Rangers like you did on your Battery Blitz Mission, you helped make sure that 246,992 batteries were properly recycled instead of going to a landfill! Together we can all make a big difference!
In recognition of your work we have two very important people who want to personally celebrate the distinguished efforts you made on your Battery Blitz Missions:
"We congratulate all Earth Rangers members for participating in this important mission. Your collections and used battery storage box ideas are fantastic and much appreciated! We thank you for caring about the environment and keeping used batteries out of landfills. Please keep up your good work and encourage your family and friends to do the same!" – Joe Zenobio, President of Call2Recycle Canada, Inc.
"Engaging kids in tangible environmental action from a young age is crucial in instilling much-needed environmental values in our citizens. Thanks to our partnership with Call2Recycle, we're teaching responsible battery recycling habits to children and families all across Canada. The Battery Blitz Contest had more than 1,000 submissions resulting in the collection of more than 240,000 batteries that also won't end up in landfills!" – Tovah Barocas, President of Earth Rangers
Thank you Earth Rangers members, we hope you had as much fun on this mission as we did! And now without further adieu – drum roll, please!! – The Earth Rangers 2020 Battery Blitz Contest winners:
Grand Prize Winner:
Earth Ranger Lilly
Earth Ranger Lilly collected 54 Batteries. She says; "We have been collecting batteries for the last year at my mom's school, my nana and papas and my aunt have been helping me too!"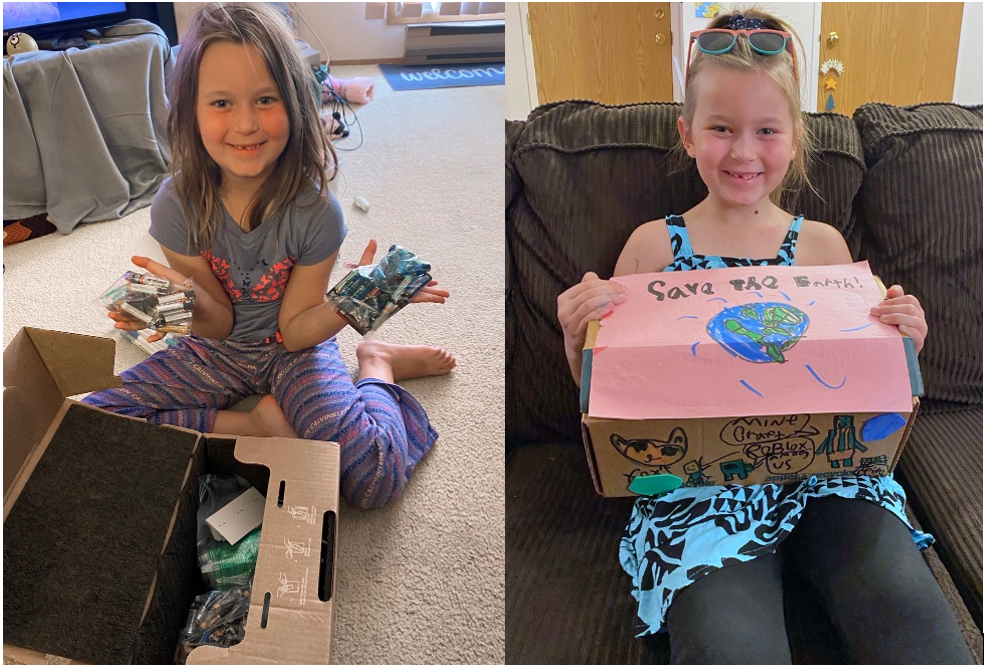 Secondary Winners:
Earth Ranger Eleanor collected 27 batteries in her adorable ElectroFox box: "You put the batteries in the top through the ears!"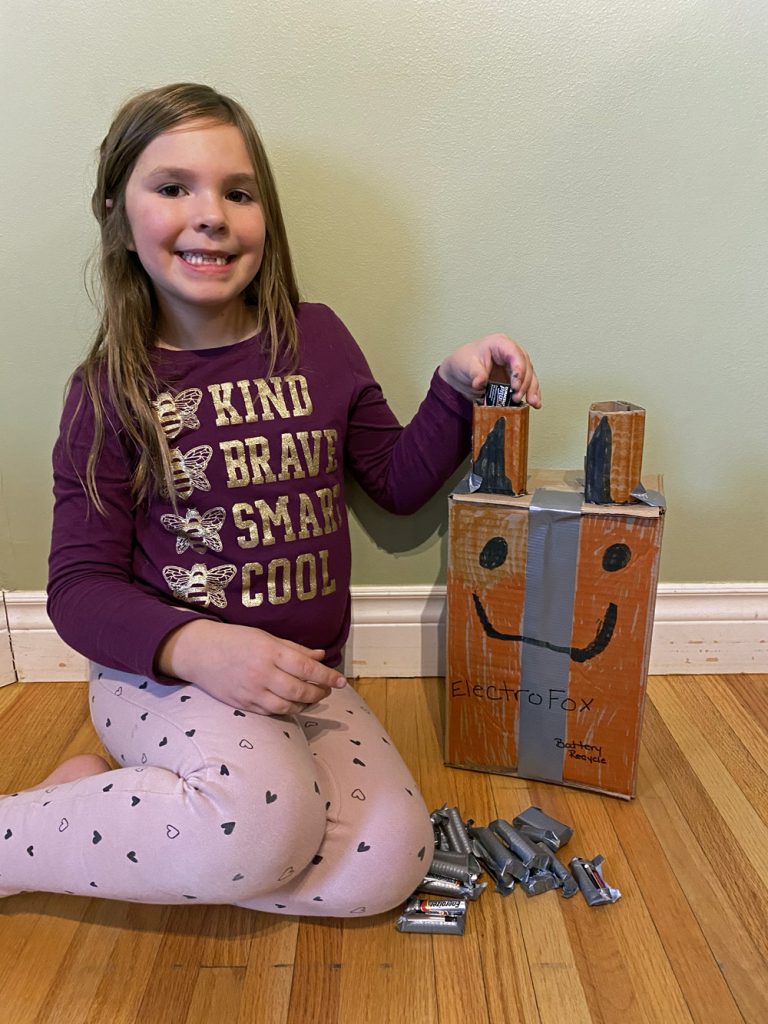 Earth Ranger Kate collected 103 batteries in her beautiful Butterfly Batteries Muncher: "I like butterflies, this summer we had four Monarch Butterflies! I hope other people like butterflies too, so they will be happy to collect more batteries and put into this butterfly batteries muncher!"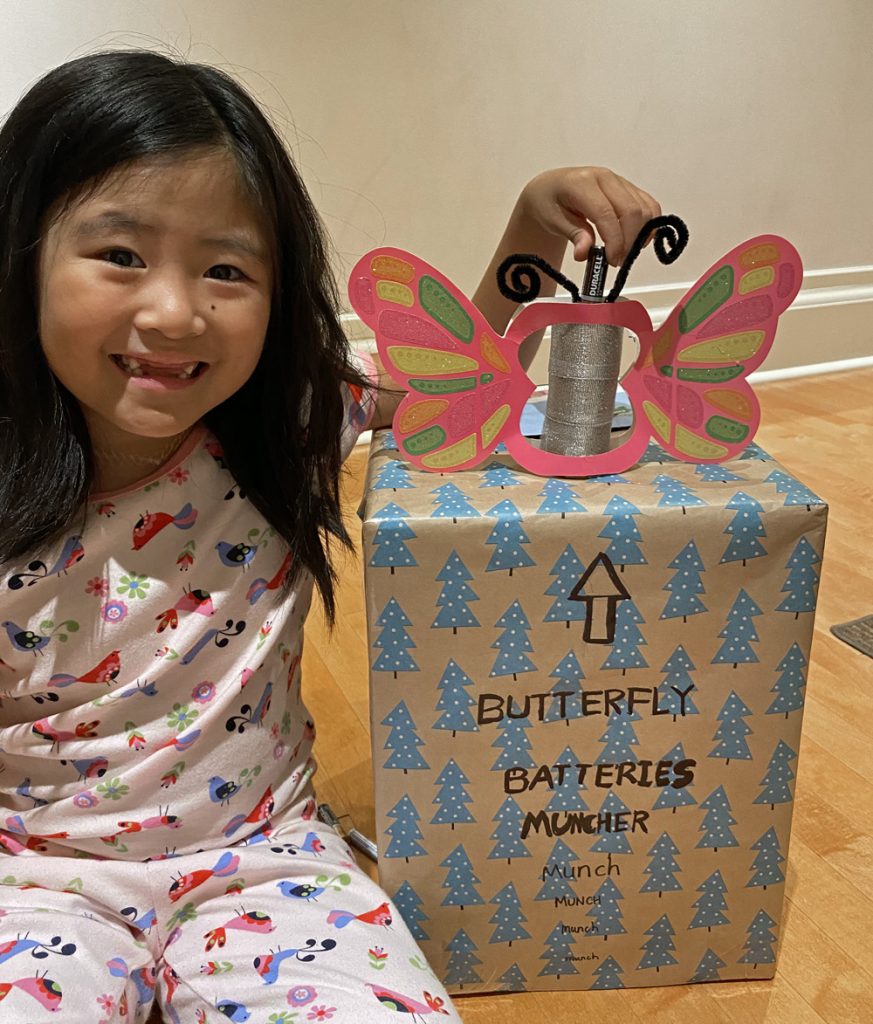 Earth Ranger Mia collected 200 batteries in her heroic Battery Man box: "I came up with my idea for my battery box because I like superheroes and many people know who Batman is. I thought it would be cool to create a new superhero who collects batteries and I decided to call him Battery Man!"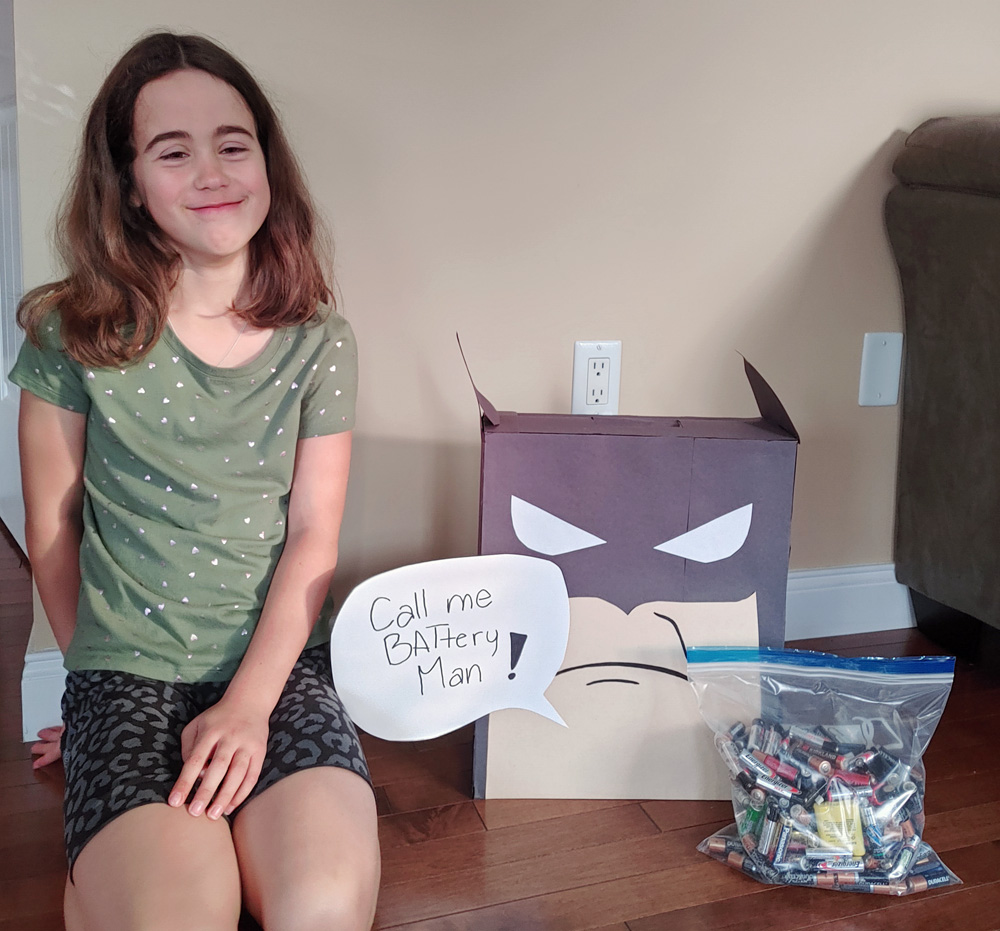 Earth Ranger Jacob collected 21 batteries in his startling Zombie Box: "He is a zombie that eats old batteries. He wobbles around feeding on dead batteries so they don't end up in landfills!"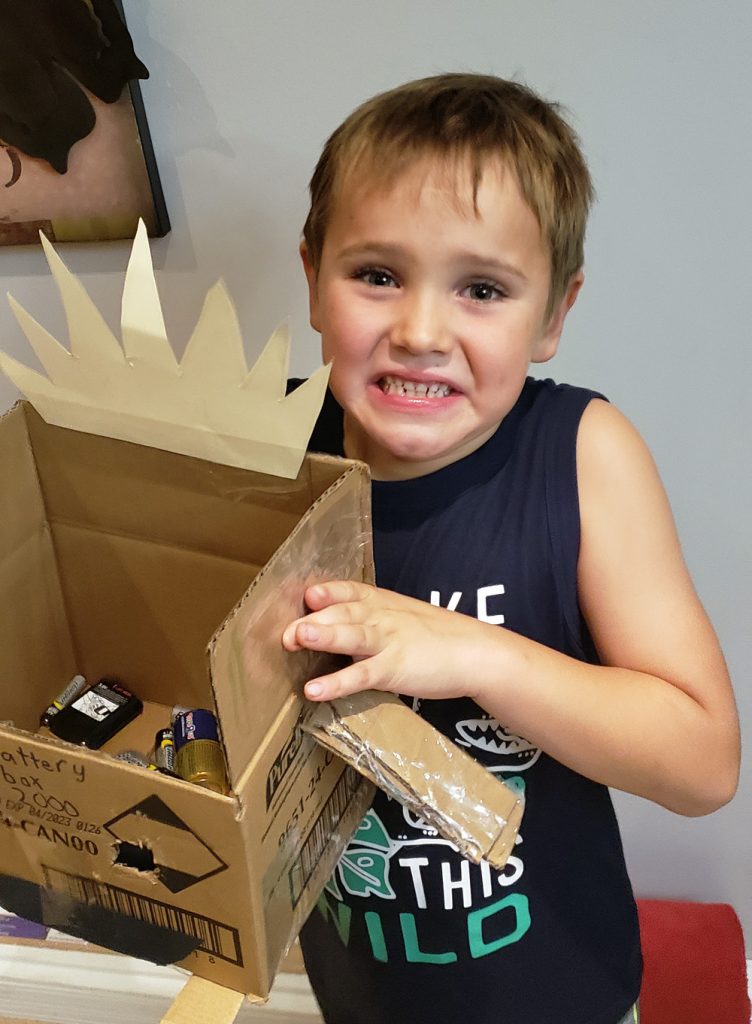 Earth Ranger Owen collected 68 batteries which will be protected by Battery Man until he can safely recycle them, stating "My battery box is really a battery jar, it is a reused pickle jar so that it will be safe. I decorated it to look like a sky-blue house and I put a sentry guard called Battery Man to protect them and report if there are any problems. I hope that we can create a safer, cleaner environment for all creatures. I am also pursuing creating a clean-up program at my elementary school."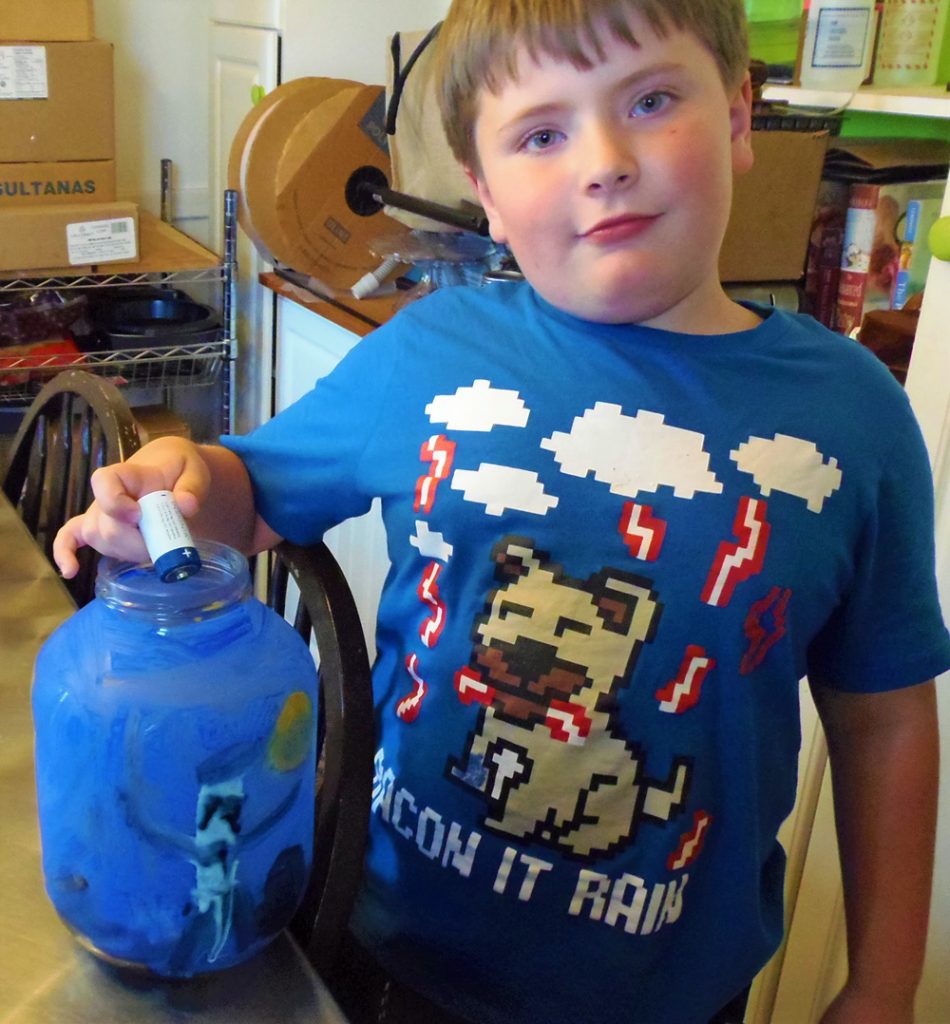 Earth Ranger Jovi collected 10 batteries in her mini wooden container stating "It is a little round wooden box with a lid"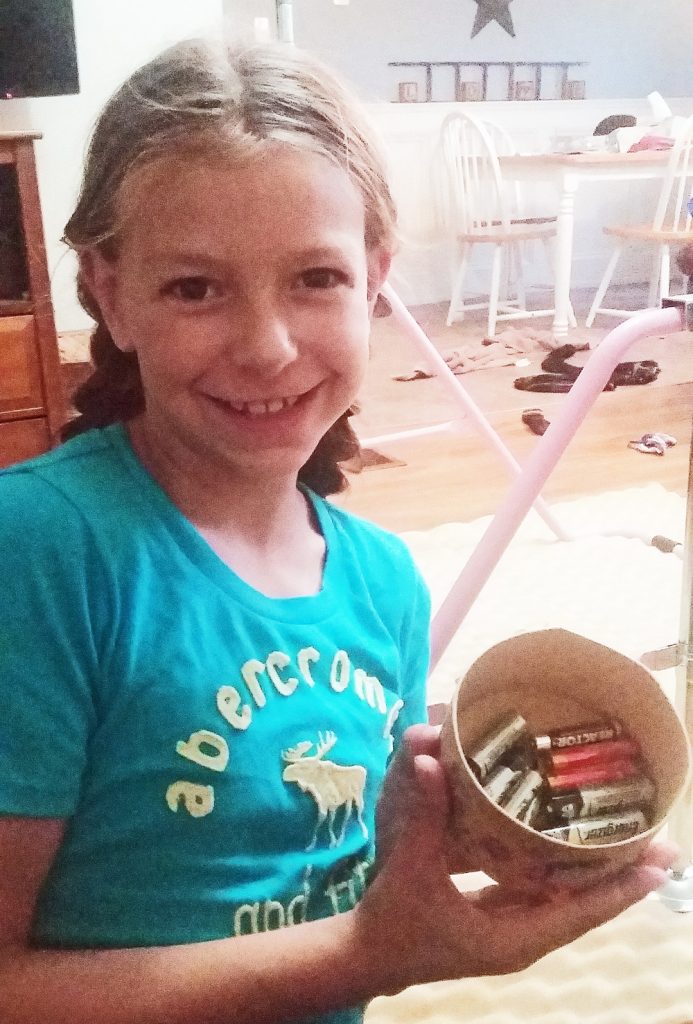 Earth Ranger Nathan collected 26 batteries in his box decorated with his favourite green dinosaur sticker, stating "I used an empty plastic container from some chocolates we got. I liked it because it had a lid. My mom helped me to decorate it with some stickers that we had at home. I put stickers everywhere – even on the inside! My favourite sticker is the green dinosaur. It says extinct is forever. I collected 26 batteries. There's still room for more in my box."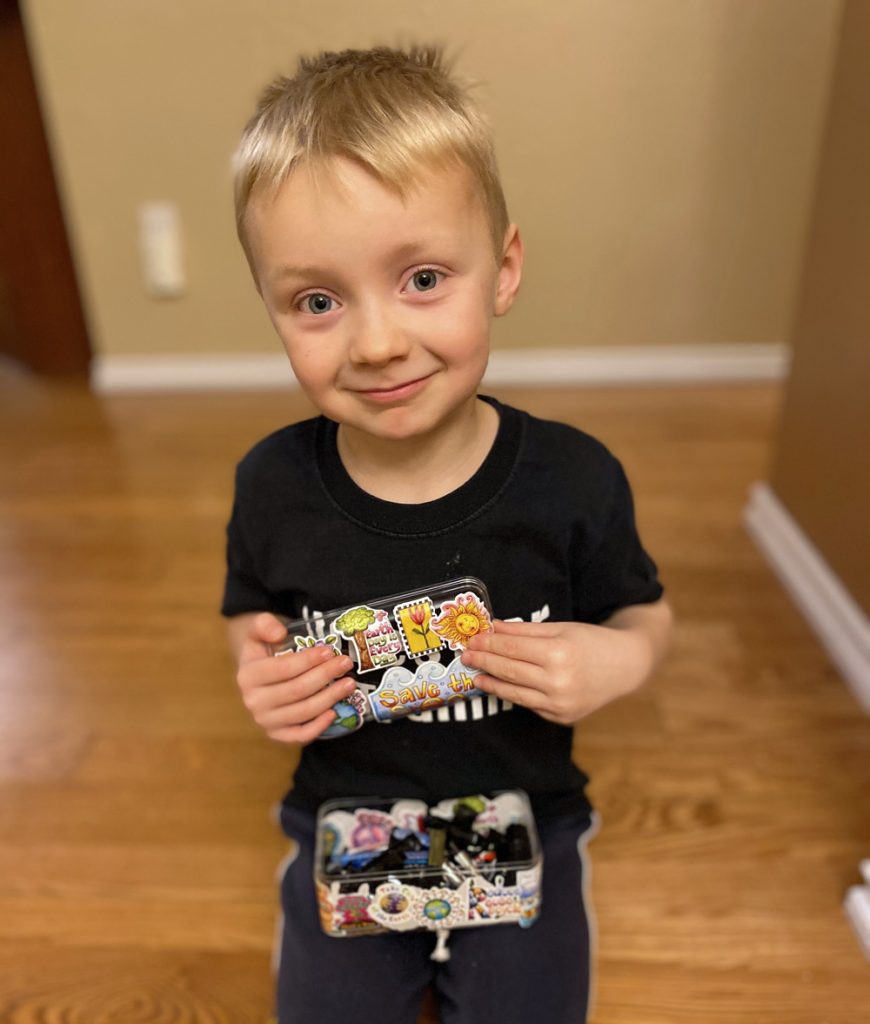 Earth Ranger Ethan collected 15 batteries to feed the Chomper of Batteries, stating "My battery box is named chomper of batteries. He is big and covered in polka dots and has blue hair with strong tin foil arms."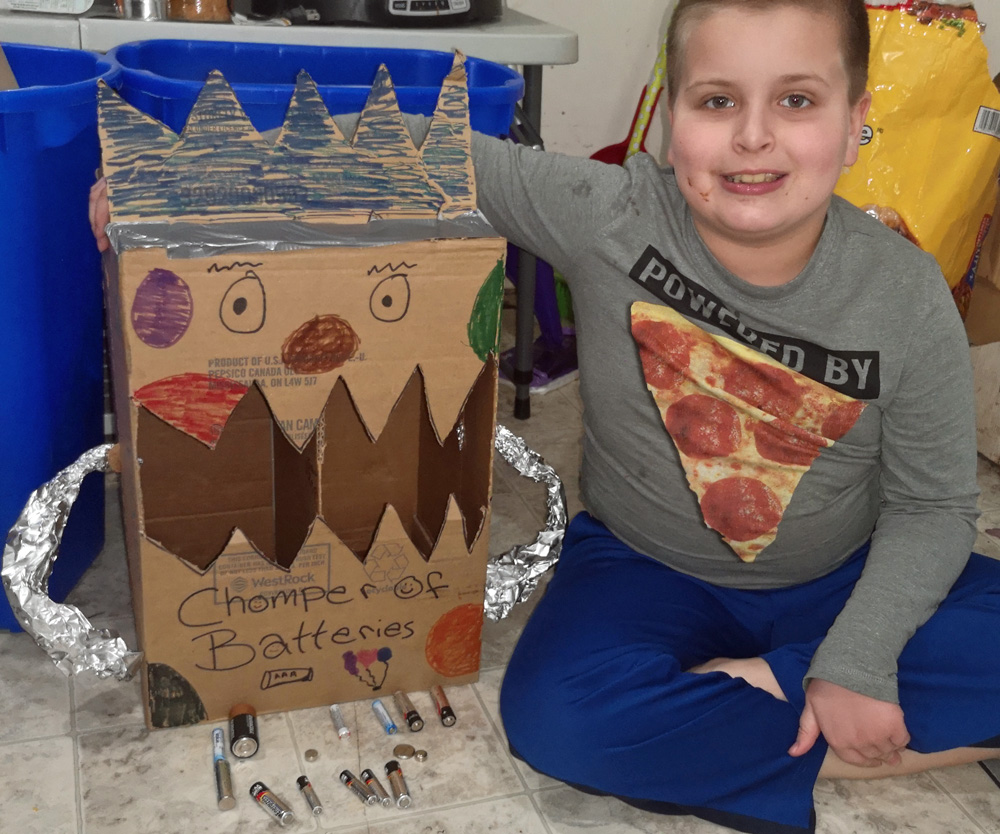 Earth Ranger Claire and her box the Queen of Battery Disposing battled hard to collect 55 batteries, stating "My children decided that they both wanted to child a robot. My 7-year-old son Zachary Jones, build the Battery Collector, and the Queen of Battery Disposing was built by my 9 year old daughter Claire. They are always excited to collect batteries. When I tell them I have a battery to recycle, I always see both robots having a battle to decide who gets this one!! it's silly how they love taping the ends up after as well. Let's get everyone battery recycling! Good luck to all!"
Keep up the great work Earth Rangers and be sure to check out our other Missions for more fun!