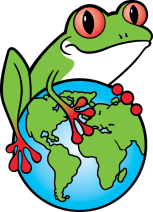 Wow, a WHOLE YEAR has gone by, and here we are, we've accomplished so much this year! Each and every one of you has done incredible work protecting animals, and their habitats, and every day our team at Earth Rangers Headquarters receives incredible updates from members like you!
We want to highlight your inspiring stories and accomplishments from this year; with every mission you complete you're protecting animals, with every Bring Back the Wild milestone you reach you're helping to save endangered and at-risk animals, and with the knowledge you learn on the Wild Wire Blog you can help be the change for tomorrow!
The following stories are yours, whether it's your name and photo or not, we've all banded together this year to make a difference for a brighter tomorrow. Let's all share in this moment, recognizing each of your amazing earth-saving efforts!
Check out Earth Ranger Dante's incredible Arts and Crafts Sale this year! Dante raised $350.00 at a local craft show, to help save the Snowshoe Hare!
Check out Super Ranger Logan's Earth Month inspired Art Sale — Earth Ranger Logan sold Home Made Crafts, Beluga Whale art and Salamander Cookies this Earth Month. He helped protect both the Salamander and the Beluga Whale with his AMAZING efforts!
Check out Earth Ranger Haorui's Arts & Crafts Sale! – During a weekend this summer Ranger Haorui rented a booth to accomplish his Fundraising Goal, selling Arts and Crafts for two days! Haorui, his sister, and friends (they're all Earth Rangers!) worked super hard and gained a bunch of experience. In total Haorui and his friends raised $240.00 to protect the Grey Fox.
This summer Brother & Sister due (Earth Ranger Emma & Earth Ranger Nicholas) teamed up to host an epic Lemonade Stand, for Salamanders! Amazing work!

Super Ranger Logan shares an update with us, as he completes the ATK in Action mission, stating "I accepted this mission because I like doing art, and listening to Grama Belle's stories! When Grama Belle was very young she was thrown from a horse at a friend's farm. She was unconscious and had a few scrapes and bruises, but was okay. My Grama had a ton of courage and got back on the horse after the accident. Because of her courage, I chose to paint a Bear."
Earth Ranger Benjamin completes the Back to Nature mission, stating "I love being outside in nature, and the fresh air! I spend lots of time outside!"
Earth Ranger Addison completes the Battery Blitz mission, stating "I collected over 2,200 batteries! I asked my friends and family to ask their work places and we got LOTS from a local Hospice too!"
Earth Ranger Aadesh completes the Flip the Switch mission – great work Earth Ranger!
Earth Ranger Avery completes the Food Waste Warrior mission, stating "I only ever took what I knew I could eat, and I used the composter when needed. Also! We have chickens, so we gave them any additional scraps to nibble on, to help from wasting any left-overs!"
Earth Ranger Kiera completes the For the Birds mission, stating "I picked this mission because I wanted to feed the birds around the neighbourhood. I completed this mission by purchasing a birdhouse, then painting a clear coating on it, and hanging it. I had a lot of fun because after I finished making the birdhouse I knew I'd helped a lot of birds!"
Earth Ranger Aislinn completes the Happy Holi-DIY mission, stating "I used recycled cardboard to make valentines cards!"
Earth Ranger Tiffany completes the Homemade Holiday mission, stating "While I was doing this mission, I used smelly markers and a piece of recycled paper. I drew pictures of wintery scenery. I really want to help protect trees and animals from habitat loss!"
Earth Ranger Anisa completes the I Heart Canada mission this summer, stating "I think the best thing about Canada is it's the second largest country in the world, and we have lots of space! I had tons of fun with this mission!"
This incredible family worked together to complete their I Heart Canada mission! Check out Earth Ranger Ayden, Evan, and Dylan's mission photos here! They said: "We celebrated by going for a hike with the family!"
Earth Ranger Arthur completes the Just 1 Tree mission, stating "I planted two trees at a local park's tree planting event!"
Earth Ranger Adam completes the Outdoor Explorer mission, stating "I fed lost of birds, and ducks and I also saw some squirrels!"
Earth Ranger Indianna completes the Outdoor Explorer mission, stating "Hi there, it's Earth Ranger Snow Leopard! This was a super exciting adventure! We think we identified a bird we saw as a Red-breasted Merganger, it had a red head and spiky like a mohawk. We also saw a beaver dam, and a black centipede with yellow spots, and some really big ants! It was warm and sunny, I loved it!"
Earth Ranger Maria & her Father complete the Scavenger Hunt Showdown mission together, stating "We picked this mission because we could complete it close to home. My daddy and me went on my first 3.5 km hike!"
Earth Ranger Kayla completes the Scavenger Hunt Showdown mission, stating "We hiked through the forest, it's such a beautiful place! You guys might like it!"
Earth Ranger Ellis completes the Shoreline Saver mission with his Grandfather, stating "We went to a beautiful beach where orcas rub. I used my papa's grabbers to clean up garbage!"
Earth Ranger Abigail completes the Spring Green Up mission, stating "My dad and I walked along the street, and picked up garbage from ditches on both sides!"
Earth Ranger Heba completes the Spring Green Up mission, stating "I planted seeds that Earth Rangers sent! My family and I also go out for walks every day, and we turn off all electronic things. We recycle a lot of things, and we don't have a car. I always try to pick up litter and clean my community too!"
Earth Ranger Micah completes the Toxic Takedown mission, stating "I used eco-friendly cleaners, making sure we avoided harmful products!". #ToxicTakedown
Earth Ranger Liam completes the Water Taste Test mission, stating "My family completed the challenge with me. My nan and pop who have their own well water and not treated town water, preferred "B" water. Because they said they could taste bleach on water "A". My parents, uncle and cousin who have treated town water chose the option of no difference."
Earth Ranger Aria completes the What's at Steak mission, stating "Our family has been "casualtarians" since spring 2017, so this wasn't so hard. We made Penne with a Cheese Sauce – yummy and cheesy!"
Each and every one of you is an Earth-Saving Hero! Keep up the incredible work – you are the magic of Earth Rangers!
And remember, when you complete a mission you can send us your mission story and image! Send us your mission submissions for a chance to have your Earth Rangers Journey showcased on the Wild Wire blog next year!


Don't forget to comment on this article, you'll be one step closer to levelling up! Check your progress on your Journey Map, and remember, you only need 5 comments to reach Level 3 and 15 to reach Level 5. Share your thoughts here – we'd LOVE to hear them!
All comments are moderated before posting, so your comment won't be visible until we've had a chance to check that it's squeaky clean.