Welcome, esteemed members of the Conservation Council! Our wolverine researcher Mirjam Barrueto from the University of Calgary needs your help. Your first task on this super awesome and totally cool elite team of Earth Rangers is to make the final call on the names of these two wolverines: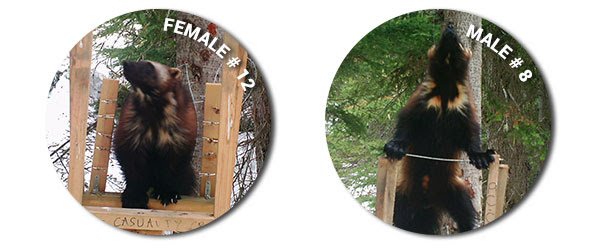 Click here to learn more about each wolverine, and read the hundreds of submissions Mirjam had to choose from submitted by Earth Rangers around the world!
The top picks, along with her reactions:

Watson and Wendy
"Love the combination."
Quill and Millie
"Millie sounds so innocent and unassuming for a wolverine mom that manages to make a living in some of the steepest valleys of the Selkirks!" 

Rocky and Rose
"Male #8 is certainly a 'Rocky'! And 'Rose' sounds very polished for a mother of many!"

Hugh and Jacky
"No explanation needed!"

Quill and Cookie
"I love the combination. My favourite perhaps. Female #12 is such a cookie! It will make me smile every single time I mention the name! And Quill is such an appropriate name – he certainly has gotten his face full several times"
Here's a message from Mirjam herself:
So, which will be the winning combo? Comment with your top pick from the choices below and stay tuned over the next few weeks to find out the winners!
A) Watson and Wendy B) Quill and Millie C) Rocky and Rose D) Hugh and Jacky E) Quill and Cookie