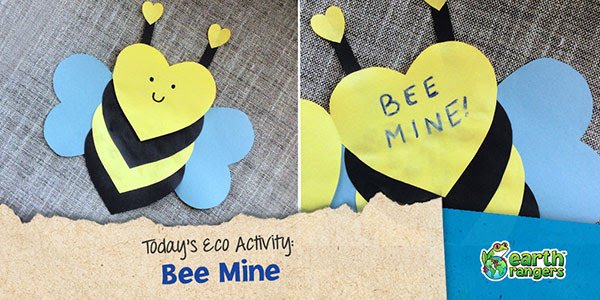 Have you heard the buzz? Valentine's Day is flying this way! Let's get crafting some BEE-autiful cards to get a head start on sharing the love with those you love most.
Here's what you need:

Time to bee creative!
Using your cardstock, make a heart-shaped tracing template.
Fold your yellow construction paper and trace around your heart along the folded side. Cut this out, leaving the folded side uncut. This will give you two joined hearts – ta-da! The head of your bee is also a card! Write a message to your Valentine inside.
Trace and cut out two more yellow hearts – these ones don't need to be folded.
Trace and cut out two black hearts.
Glue the black heart onto the yellow card so that the black V peeks out from behind the yellow V. Continue with your other yellow and black hearts, alternating colours. This will bee the body!
Trace and cut out two white/light blue hearts. Then glue them onto the back of your bee body, sticking out like wings.
Draw a face or add googly eyes to the head/card of your bee.
Add antennae by cutting them out of scrap construction paper.
Consider spreading the love and leaving your crafted creation on the doorstep of someone who could use a little love! It's a great way to send a kind message while practising safe social distancing!
Don't forget to share a photo of your drop-off and tag us on Facebook, Instagram, or Twitter! We LOVE to see our Earth Rangers inspiring others.​