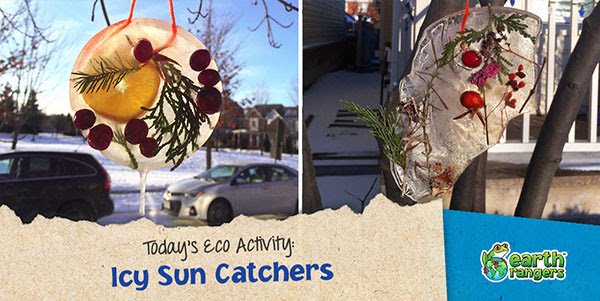 Here's a DIY you can do outside this winter: sustainable sun catchers made with natural ingredients and ICE! This activity has it all: a creative way to spend time in the brisk winter air, using the beautiful materials found in nature (no trip to the store necessary!), and adding a little decorative pizazz to the trees around you! It all begins with a nature walk to forage for a variety of shapes, sizes and colours!
Here's what you can collect to create this cool craft:

Next, grab a small plate or plastic container on its way to the recycling bin (this will be your mold) and a pitcher of water. Fill your mold with water. Arrange your ingredients in your mold, and add a long piece of twine or yarn (the thicker the better!) through it, sticking out a loop on one side, so that it can easily be hung later. Then, leave your creations outside in the cold to let them freeze.
Whenever your sun catcher melts, the bits and pieces from your art will fall onto the ground, giving some yummy options for animal foragers in the spring!

They're an important part of the Arctic ecosystems they call home, but due to climate change, belugas are facing a big problem. Warming waters are affecting not only their habitats, but also their ability to find food. Learn more about how we're helping beluga whales and how symbolically adopting your very own through our Wildlife Adoptions program will make you feel extra cool!