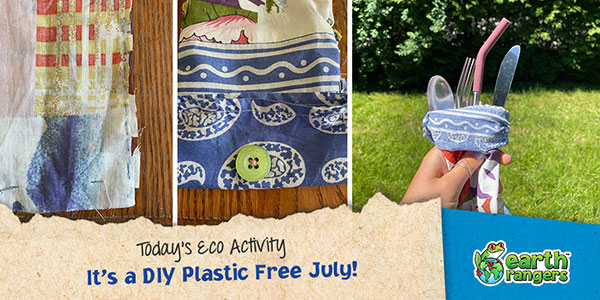 Earth Rangers is excited to kick off Plastic Free July, a whole month dedicated to being more mindful about the plastic waste we consume with the goal of reducing how much we use. For today's eco-activity we've come up with a simple waste-reducing activity to get you started! This DIY reusable utensil kit is a crafty pouch you can use to keep your reusable utensils in – simply store it in your bag and you'll never need plastic cutlery again!
Materials required:
Small piece of scrap fabric (about 11 cm x 30 cm, but can vary depending on the length of your utensils)
Needle and thread
Button (optional)
Here's how to make your pouch:
Cut your fabric into a rectangle with your chosen dimensions (your rectangle should be just a bit longer and wider than your utensil set laid out)
Turn your fabric inside out then sew up the two sides of your rectangle and around the bottom, leaving just the top completely open
Once your stitching is complete, flip your fabric right-side-out again
Fold about two inches of the fabric at the top down over the rest of the pouch – this will be the flap that keeps your pouch closed
Where the fold meets the rest of the pouch, sew on a button to secure it
Cut a small hole in the flap so the button fits through snugly
Slide your utensils inside, close and fasten your pouch, and voila! Stash your pouch in your bag to make sure you never need single-use plastic utensils again!