Thanks to everyone who entered the Habitat Hero Contest! You guys built so many amazing habitats. The animals in your neighbourhood must love you!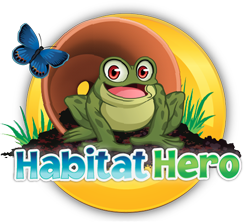 Let's take a look at what you've done so far:
4461 Habitat Hero Missions have been accepted.
430 Mission stories have been shared.
740 habitats have been built.
Here are all the habitats you've built:
123 Bird Nest Supply Shops
106 Toad Houses
125 Butterfly Snack Bars
69 Ladybug Lairs
64 Creepy Crawler Cottages
125 Bird Baths
81 Pile Up For Nature log piles
47 Bumblebee Nests
Have you accepted the Habitat Hero Mission yet? Become a Habitat Hero today!

Meet the winners of the Habitat Hero Contest!
Earth Ranger Shea

I built the habitat using items found around my house then I had my mom help me make the food to go in it. Then I hung the snapper in a tree in my backyard and put the food in.

Earth Ranger Jacob

We worked together and built a toad home, a lady bug lair, and a creepy crawler cottage (that got used!). It was great for me to check on the habitats to see what animals were visiting.

Earth Ranger Lillybilly

My bird bath is made out of recycle bowl and bottle, I tied it to a grape tree where the bird can also get some shade and is able to bath in the water and drink from it, the birds have several rocks in the bowl so they can sit down.

Earth Ranger Jordan

I picked it because I wanted to help animals have better Homes. Got the materials and with mommy's help we put together the habitats. I had a lot of fun doing my mission.

Earth Ranger Kayden

I built this habit so I could help the butterflies get as much food as possible before winter and when I was young I actually had a butterfly in my hand eating something from the sand I picked up.

Earth Ranger Bileigh

This habitat took a lot of hard work and time to build. I picked the location and my Dad helped me dig it. I found lots of big rocks and my Dad helped me move some of the larger ones. I then relocated some of my Mom's plants on the banks of my pond. Then we sat back and watched nature take it over and do it's thing. We now have about 30 frogs using the pond and a couple birds swooping in from time to time!

Earth Ranger Mataya

We picked it because we had the supplies and I love butterflies, birds, and toads! I had lots of fun doing it! We hung the butterfly snack bar in the front of our house on our lamp and used cantaloupe to go along with the butterfly treat. I hope they like it!

Earth Ranger Julian

My mom has a bird feeder and lots of birds come to our yard. I noticed that when the sprinklers are done, and there are puddles on the walkway, the birds come and get wet, so I built them a place to do that with the bird bath.

Earth Ranger Addison

I picked it because there was a lot wood around so I wanted to put it to good use for the animals to live in. i thought it was a lot of fun. I put sticks together and put a little bit of grass in it and put leaves on top so that it would keep them dry when it rains.

Earth Ranger Marlee

I love butterflies and wanted to give them a snack. We hung the butterfly snack bar up in our tree in our backyard. We added some flowers from our flower bed to add colour and help attract the butterflies.

Generously supported by: