We have an AMAZING story from Earth Ranger Abigail. Super Ranger Abigail literally is the change she wishes to see in the world; with dedication and amazing efforts she has protected animals (and their habitats), raised awareness, and helped change the world for a better tomorrow.
Abigail discovered Earth Rangers from a TV commercial and quickly signed up to begin her extraordinary journey to become a Super Ranger. Abigail's journey began in late 2016 when she dedicated herself to her first Bring Back the Wild campaign for the Eastern Small-footed Bats. Since originally taking her Earth Rangers pledge, Abigail has continually protected animals through her fundraising campaigns; "I have completed four Bring Back the Wild campaigns [so far]. I originally chose to raise funds for the Eastern Small-Footed Bat, then the Woodland Caribou, the Gray Fox, and [most recently] the Snowshoe Hare. I have raised a total of $3,080.00 for these animals!" Abigail's work has helped make a positive impact on endangered animals and their habitats.
Abigail's fundraising story and efforts speak for themselves, and she has some amazing ideas to share with us all: "I fundraise by writing letters explaining why the animal is threatened and needs our help. Sometimes I draw a picture of the animal I am fundraising for on the bottom of the letter. Then I ask my Dad to scan the letter and email it to people we know … I also get my Dad to print business cards with the Earth Rangers logo, my name, a link to my donation page, and the name of the animal I am raising funds for. I give these cards to people I meet and ask them to please donate to my campaign. When I was raising funds for the woodland caribou, my family went to Newfoundland, and we went for a drive to see if we could find some caribou. We didn't see any, but I told the lady who worked in the hotel where we stayed about my Bring Back the Wild campaign to help the caribou, and she sent me a letter with some photographs of caribou and a donation to my campaign!"
For each Bring Back the Wild Campaign Abigail has completed she has also raised amazing awareness in her community: "Each time I do a Bring Back the Wild fundraising campaign, I do my speech at school about the animal I am raising funds for, to raise awareness of Earth Rangers and the amazing animals that need our help." Drum-roll please, this is quite amazing: Super Ranger Abigail first presents her speech within her own school, then she enters a public speaking competition each year to help share her message with an even bigger community! She says; "This year, I did my speech about the Gray Fox, and I won in the Primary category. That means I got to do my speech again in a competition against kids from other schools, which was held at the Royal Canadian Legion. I finished in second place in the Primary category. I was really glad to be able to tell so many people about the Gray Fox."
Super Ranger Abigail's efforts don't stop with fundraising though! She has also completed 16 Earth Rangers Missions! Abigail's favourite missions involve outdoor activities; such as Back to Nature. "For my Back to Nature mission, my Dad and I went snowshoeing down a trail near our house that used to be a railway track. We took pictures of all the animal tracks we found in the snow and tried to identify them. We found tracks made by rabbits, squirrels, a fox, and even a coyote." Some of Super Ranger Abigail's other favourite missions include Outdoor Explorer, Shoreline Saver, Just 1 Tree, Spring Green Up and For the Birds.
Super Ranger Abigail recognizes that her Bring Back the Wild campaigns and Missions go beyond one animal; its entire ecosystems and habitats that are affected and that depend on Earth Rangers support, Abigail says; "It's important to protect all animals. When one species goes extinct it affects other species [the whole eco-system], and eventually, it could affect us too. For example, we need insects to help us grow food, and we need fish to eat. To protect animals, we have to protect their habitat, which means keeping the air and water clean!"
Want to be an earth-saving hero like Super Ranger Abigail? Check out these Missions!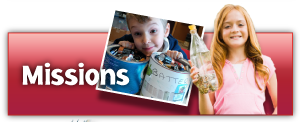 Or protect animals today with a Bring Back the Wild Campaign!

Don't forget that by commenting on this article, you'll be one step closer to levelling up! Check your progress on your Journey Map, and remember, you only need 5 comments to reach Level 3 and 15 to reach Level 5. Share your thoughts here – we'd LOVE to hear them!
All comments are moderated before posting, so your comment won't be visible until we've had a chance to check that it's squeaky clean.