Hey, Earth Rangers!

This September, we launched a big update for members on EarthRangers.com. We introduced the Hub (your new home base) and a really cool levelling system. This was an EPIC project, and like most epic projects, there are lots of bits and pieces that are needed to make it work.
Right now, some parts of the site aren't quite working just yet and we totally understand that there are some glitches. But our technical wizards are on the case and are working hard to fix them!
In the coming days and weeks, you'll see more and more improvements on the website. Until then, we'd like to ask you to please bear with us 🙂
And guess what?
You can help! You're an important member of the Earth Rangers community, so if you're having trouble on the site, or you'd like to provide some feedback, we'd absolutely love to hear from you. You can email us at bbtw@earthrangers.com or comment on this article with your questions and we'd be happy to help!
Thanks!
Earth Ranger Bill
P.S. Want more information about your new Hub and all of its exciting new features? Keep scrolling – and check back each week for more updates!

Tell me more!
One of the first things you'll do when you create your account is design the virtual you, and the brand new Earth Rangers Avatar Editor gives you tons of exciting options. Feeling like a mermaid? Want to rock a suit of armor? The possibilities are endless. Change your avatar as often as you want, and remember that you'll unlock lots more options as you level up!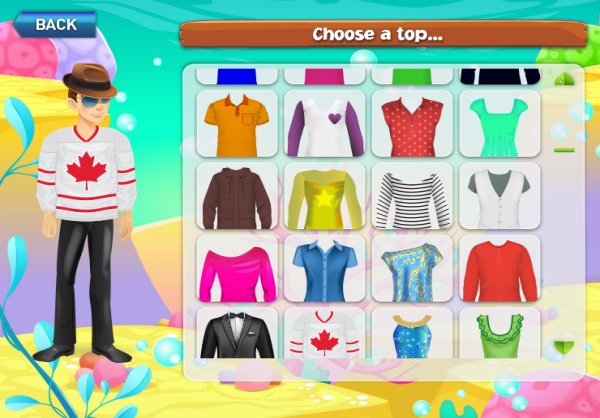 After you've had a chance to take a look at the new site (which is pretty cool, right?!), you can jump right into your Hub. This is your new "home base", bringing all of your amazing accomplishments together in one place. As you explore, remember that anytime you want to head back to your Hub, simply click the "My Hub" button in the menu bar at the top of the page to jump right back to your Profile tab.

Once you're there, your Dashboard is your one-stop shop for any important updates, and it's how we'll let you know about new Missions, blog posts, and more!
Your Profile tab is where you'll find all your amazing accomplishments. The buttons on the right will help you customize your Profile with different backgrounds and your Avatar with different gear.
The Progress Bar at the top of your Profile will take you to the Journey Map. Check this out to see what you've done so far, and to learn more about what you still need to do to level up. Just hold your mouse over each peg to learn how to get there! You can also click the "My Journey" tab in your Hub to get here too.
Now that you've created your awesome avatar and picked out the coolest Profile background, it's time to learn all about your Bring Back the Wild donation page. Click on your Bring Back the Wild tab and let's take a look!
The Project Brief is your one-stop shop for more information about how the donations you raise will help the Bring Back the Wild animal you chose to protect.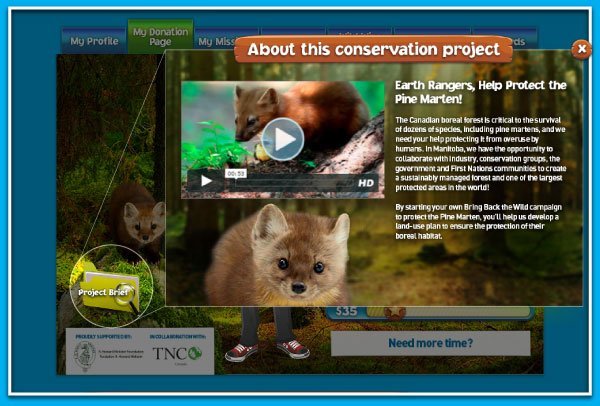 Click the Fundraising Ideas button for lots of great ideas and printable resources to help with your campaign. You can also send a link to your donation page by email, Facebook, or Twitter just by clicking the Ask for Donations button.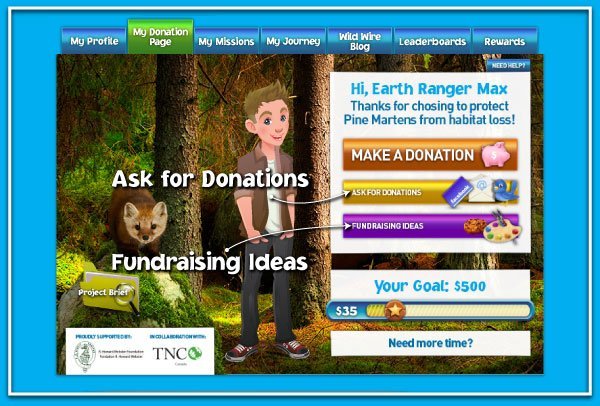 If you need more time, you can use the Campaign Extension Tool to select a new end date. Right above that you'll find your Goal Thermometer, which you can click to see who has donated to your campaign. Click your goal to change it and to check out the awesome rewards that are available with every milestone you hit!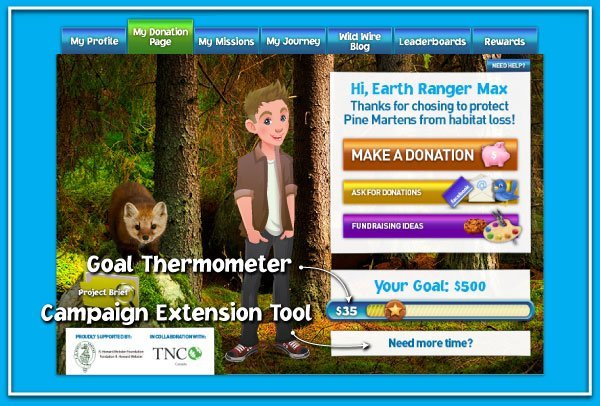 Besides your Bring Back the Wild campaign, Earth Rangers Missions are awesome animal-saving activities that you can do at home with your friends and family. From recycling batteries to planting a pollinator garden to exploring the amazing natural wonders around you, there's a Mission for everyone!
When you login to your Hub, click the Missions tab to check your progress. The red column is where you'll find all the Missions that are still waiting to be discovered – check them out and choose your next adventure today!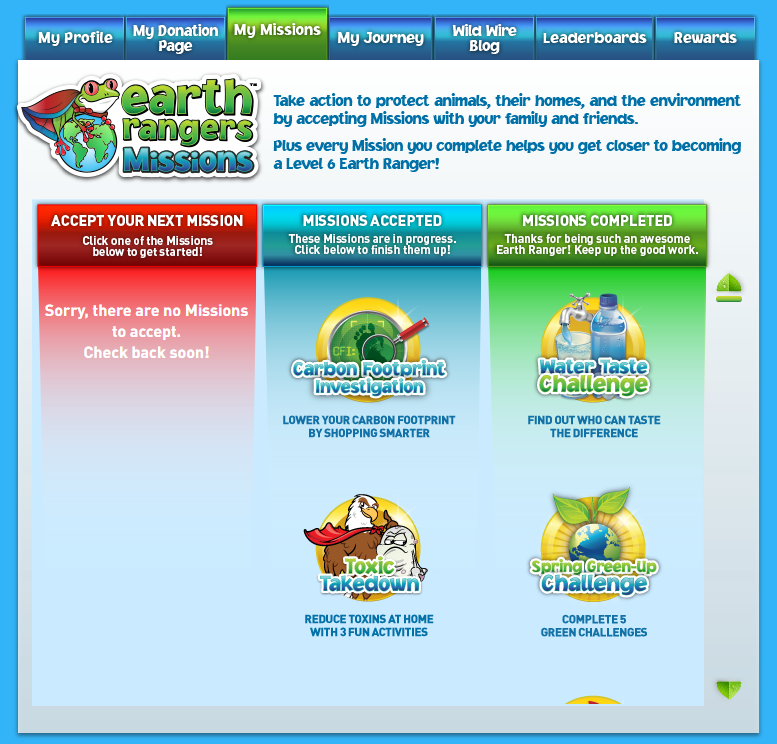 Check out the Missions that you've Accepted but are still working on in the blue column. Lost the brief? Want to download the Mission extras again? Simply click a Mission icon to access everything you need to succeed!
Once you've finished your Mission, hit the Complete button from the Mission page to earn an awesome badge for your Online Achievement Wall. And don't forget to tell us how it went – we always love to hear about eager Earth Rangers in action!
Fundraising for your Bring Back the Wild campaign and completing Missions are a big part of your Earth Rangers Journey, but did you know you can also level up by reading and commenting on the Wild Wire blog? You can access the blog by clicking the Wild Wire tab when you're logged into your Hub.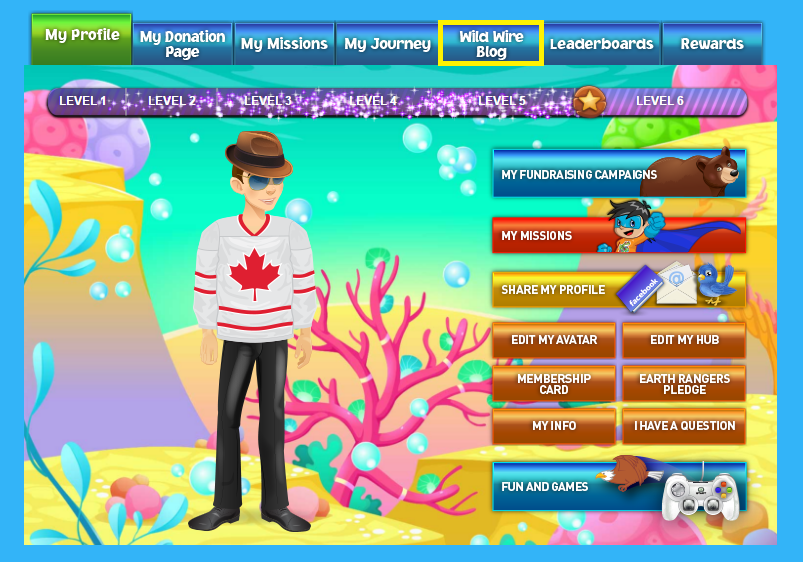 From here you'll find the Wild Wire main page, which lists our newest articles. Check back often – we try to post something new and exciting every couple of weeks!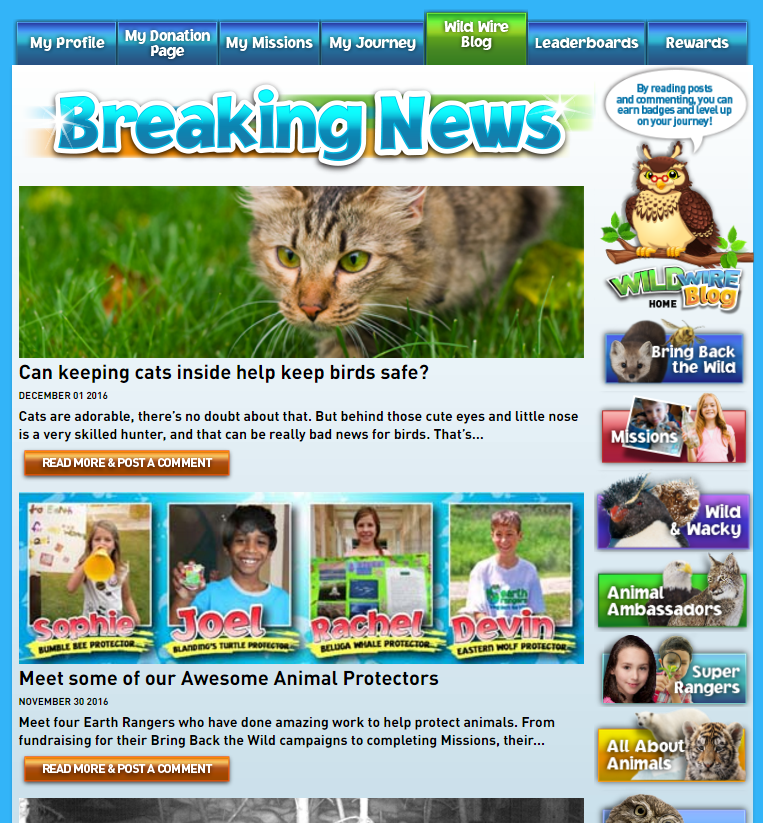 On the right side of the screen you'll find the Wild Wire menu. Want to check out the latest Bring Back the Wild project update? Curious to learn what Animal Ambassador Sammy the Serval's favourite snack is? Looking for articles about Missions? Just click the buttons to explore tons of awesome articles. You can even use the Search tool to find articles about all things animal related. This one comes in handy at homework time!
While you're checking out an article, remember that you can work towards levelling up just by commenting on what you've read. Once you've logged in, just scroll to the bottom of the page to find the comment box! Remember that your comments won't be visible until someone on the Earth Rangers team makes sure they're squeaky clean, but they'll be posted as soon as they're approved.
When you registered at earthrangers.com, you took a pledge to help protect animals and their homes – and you've done an amazing job doing just that so far!
As a special thank you from all your friends at Earth Rangers, we offer awesome rewards for all of your hard work. Just visit your Hub and click on your Rewards tab to learn more! And don't forget to check out your Journey Map to see what you'll need to do to earn these awesome rewards.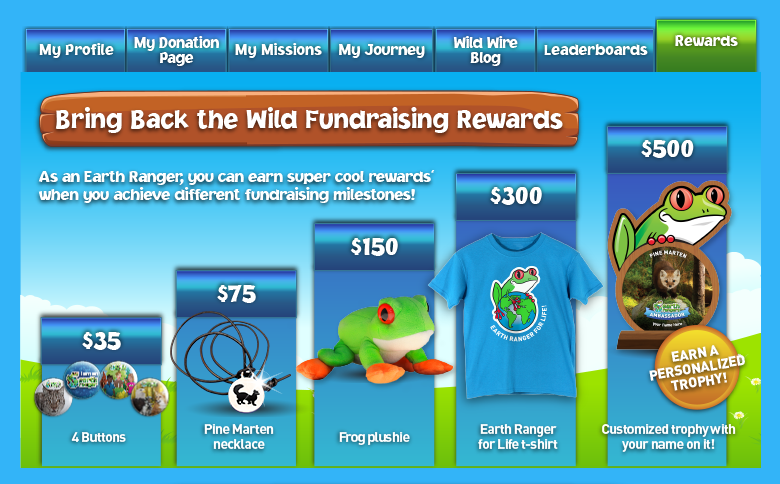 The first thing you'll see when you visit the Rewards tab are the epic goodies you can earn by hitting each Bring Back the Wild fundraising milestone. You'll earn rewards by raising as little as $35, and rewards are cumulative – this means that for each new level you reach, you'll also earn the rewards available at each milestone you pass!
Besides earning rewards for your fundraising campaigns, you can also earn awesome online swag every time you level up. Unlock eBooks, ringtones, wallpapers, games, plus new avatar items (like a tutu or a suit or armor!) as you continue your Earth Rangers journey.
Think you have what it takes to become a Level 6 Earth Ranger?
We know you do! Achieve Level 6 Earth Ranger status and you're in for the most epic rewards yet – a personalized gold membership card and a certificate you can show off to all your friends!
Remember to keep checking your Journey Map to see what you'll need to do to earn all these awesome rewards.
Thank you for all your hard work, Earth Ranger. We hope you love your new Hub!