Each Earth Month, we give Earth Rangers like you the chance to help some extra special animals in need. Last year, you helped protect marine animals like killer whales and sea otters, and thanks to your hard work, new marine protected areas are being created off the coast of British Columbia – give yourselves a big round of applause!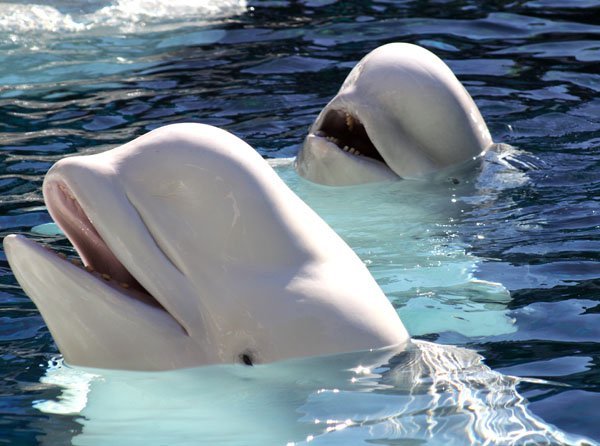 This year, we're staying underwater but we're heading to the other side of the country where we're working with GREMM and Ocean Wise to help belugas in the St. Lawrence River!
Beluga whales need your help!
Beluga populations in the St. Lawrence are shrinking and scientists are concerned about the impact that noise from shipping traffic and other human activities could be having on them. When there's lots of boat activity in one area, for example, it can get really loud underwater and it becomes hard for animals (like belugas) that communicate using sound to talk to each other. This can mean big problems for all belugas, especially mothers and their babies who might have trouble communicating with each other.
To test this theory, scientists are studying belugas in the St. Lawrence estuary (the area where the fresh water from the St. Lawrence River meets the salty water from the Atlantic Ocean). Using special underwater microphones and small drones to watch them from the air, these scientists are recording different pods of belugas and trying to figure out whether the belugas use different sounds or act differently when there's lots of boat activity nearby.
The results of this research will be used to influence rules around shipping traffic in beluga habitats across Canada.
This Earth Month, when you fundraise for your Bring Back the Wild animal, you'll also be helping protect endangered St. Lawrence beluga whales!
For every dollar you raise during the month of April, a donation* will also be made to help fund scientists from GREMM and Ocean Wise as they do this important beluga research.
You'll earn some awesome rewards by helping belugas!
Not only will you earn Bring Back the Wild Rewards, you'll also get these bonus Earth Month Rewards!

| | | |
| --- | --- | --- |
| Generously Supported by: | In collaboration with: | |
| | | |
*Funds must be raised between April 1, 2018 and June 14, 2018 to be eligible for the bonus rewards. A maximum of $25,000 will be donated to beluga whale research.
Don't forget that commenting on articles helps you level up on your Earth Rangers Journey! You only need 5 comments to reach Level 3 and 15 to reach Level 5. All comments are moderated, so your comment won't be visible until we've had a chance to check that it's squeaky clean.