Last year Earth Rangers teamed up with Bird Studies Canada on a project to help protect the adorable but endangered Piping Plover, and we've got lots of good news to share: their populations are on the rise! In 2019 the team identified 8 pairs nesting at 5 beaches across Ontario – that's twice as many pairs as there were in 2018! These plovers were found nesting in Wasaga Beach, Sauble Beach, in Darlington Provincial Park, as well as two private properties on Georgian Bay, and we're happy to report that 7 chicks successfully fledged!
Over 150 people who live near these sites volunteered their time to help with the program, including two of our very own Earth Rangers! When people went to visit the plovers in their protected nesting areas they received stickers and tattoos to help promote the protection of the recovering population, and almost 5,000 conversations with beachgoers were had over the summer. That's a lot of stickers!
In Wasaga Beach and Sauble Beach even local businesses wanted to get involved in saving these adorable little birds by running social media contests and conducting surveys. This shows that when everyone works together, great things can be accomplished!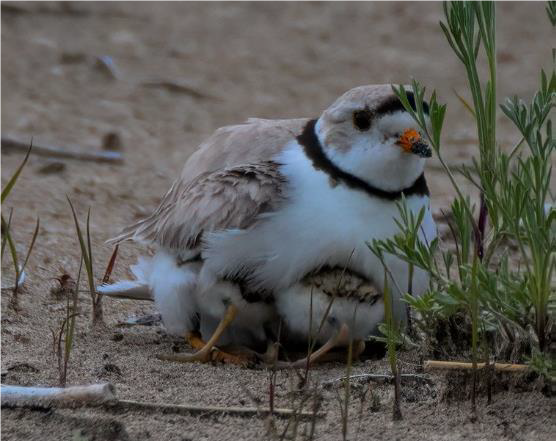 Check out the above picture taken at Wasaga Beach! Did you know that when plovers are born, they are only the size of golf balls? This dad is protecting his brood of chicks by sitting on them to keep them warm while they are only a few days old.
If you look closely at some pictures or the drawing below you might notice that the Plovers look like they're wearing a little ankle bracelet. These are called bands, and they help us track the birds, understand their lifestyle, and protect them. Bands have been used for over 100 years and they have helped us to learn much of what we know today.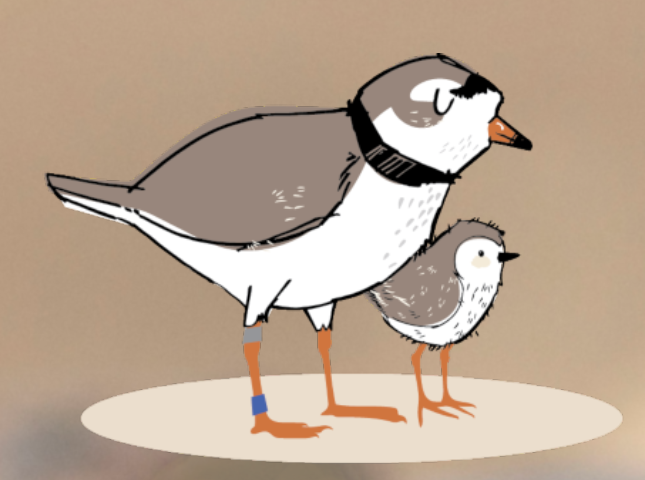 Each of the banded plovers have a unique identification number, like a fingerprint: something that is uniquely theirs and that lets us track them all along their migration journey. Bands are placed on the plovers when they are only 10 days old, and they'll stay on throughout their travels. So far 9 of Ontario's plovers have been observed down south, something we only know thanks to their unique bands. Want to see where they've been so far?
Pepa from Wasaga Beach was observed in Outback Key, Florida on July 16. Pepa hatched in Sauble Beach in 2012, and spent her first few summers breeding in the States, before finding Wasaga Beach. She has bred at Wasaga since 2016, and is one of Ontario's oldest plovers. She was named after the famous hip-hop group, Salt n' Pepa.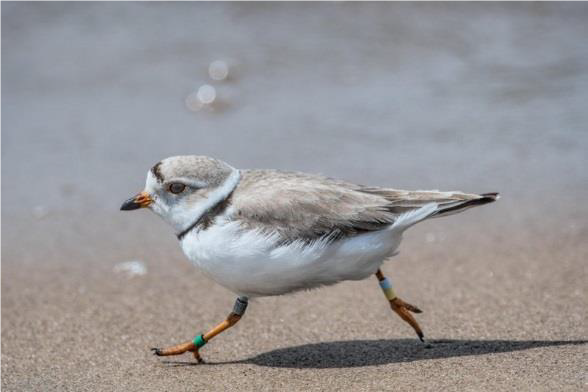 Flash from Wasaga Beach was observed on an island off the coast of Alabama on Sept 17, and again on Nov 22. Flash was hatched and raised in captive rearing in Michigan in 2018; the nest was abandoned after one of his parents was predated by a Snowy Owl, luckily biologists were able to save the eggs. Flash was named after the superhero.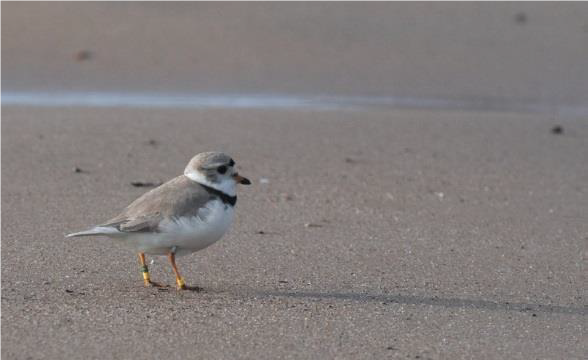 Ms. Green Dots from Sauble Beach was observed on Key Biscayne, Florida on October 14. Ms. Green Dots hatched in Michigan in 2015, and has nested in Sauble Beach every year since, producing 8 fledglings overall. She has a green dot on one of her leg bands, which is how she got her nickname.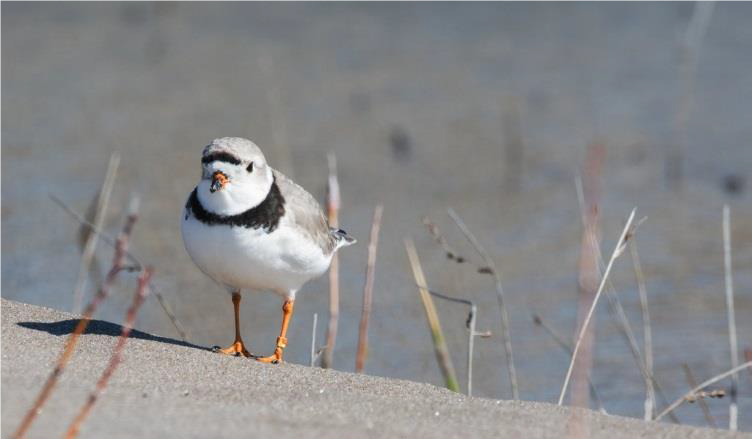 The female from Darlington Park (she needs a nickname!), was observed in Ohio in late July. She was there for 3 days, before likely heading further South. Last year she wintered in Florida with her sister. She hatched in Wasaga Beach in 2015, and 2 of her siblings also breed in Ontario, and one sibling breeds in the States. Photo by Josh Solti.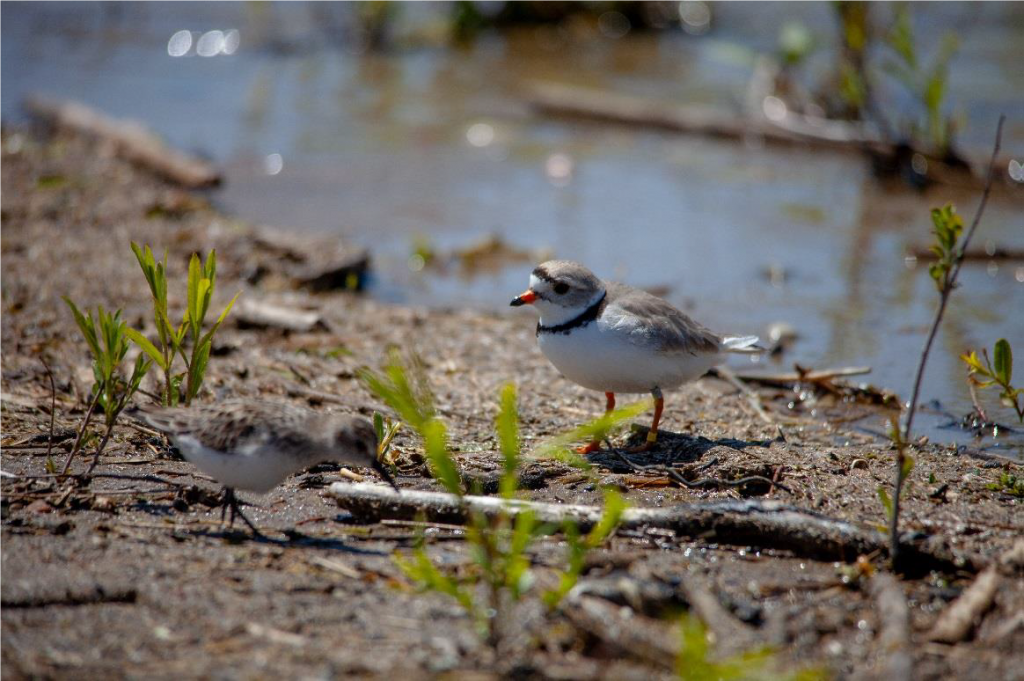 | | |
| --- | --- |
| Proudly Supported By | In Collaboration With |