Have you started your Eco All-Star Card Collection? Learn all about it here!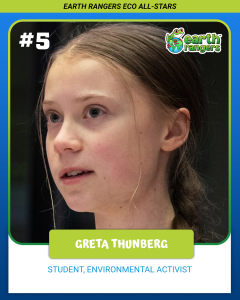 Name: Greta Thunberg
Born: January 3, 2003
Environmental Role: Student, Environmental Activist
If you're looking for a younger person who's not afraid to stand up for the environment, Greta Thunberg is the eco all-star for you! Greta is known for her no-nonsense attitude in challenging world leaders to take action and help the environment! As a teenager she even spoke about environmental concerns in front of the United Nations. She's inspired millions of kids and teens around the world to join her "Fridays for the Future" rallies in order to demand action from world leaders. How inspiring!
---
Greta Thunberg Eco All-Star Fast Facts:
1. Greta first heard about climate change when she was eight-years-old and couldn't understand why so little was being done about it.
2. Her career in environmental activism started by encouraging her parents to lower their carbon footprint by becoming vegan, upcycling, and giving up flying.
3. Thunberg sailed across the Atlantic Ocean to the 2019 UN Climate Action Summit in a carbon-neutral ship!
4. Greta has spoken in front of world leaders at major events such as the 2018 United Nations Climate Change Conference (COP24), COP25, the 2019 UN Climate Action Summit.
5. Greta has received numerous awards and recognition including an honourary Fellowship of the Royal Scottish Geographical Society. She was named Time Magazine's 100 most influential people, Forbes 100 Most Powerful Women (2019), and Time Person of the Year in 2019.
6. Greta has been nominated three times for the Nobel Peace Prize!
---
Greta's work as a climate activist has inspired young people around the world to use their voices and encourage world leaders to make decisions on behalf of the climate. Talk about taking a stand!
Collect this card by leaving a comment telling us what you admire most about Greta Thunberg!