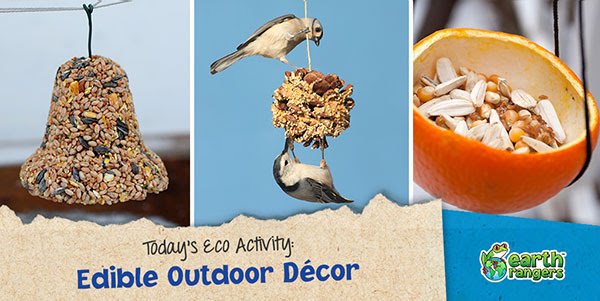 We've got an awesome way to take your outdoor spaces to the next animal-helping level with wonderful winter decorations that also give our feathered friends extra food. This is a huge help in the winter when food sources may be scarce! Even if you don't have your repurposed holiday trees from last Thursday's Tree-rific Backyard Habitat activity, you can use whatever is available to you: a bench, a railing, your fence… let your environment be your canvas for edible decorations!
Here are some ideas to get you started:
Cut an orange in half and scoop out the pieces inside. Using just the peel, attach three or four strings through little holes in the side of the orange to create a hanging basket shape. Fill it with bird seed.
Attach a loop of string to a pine cone and dip it in honey and cover it in bird seed. Then hang it by the loop.
Thread air-popped popcorn (no salt or other toppings) onto string using a needle. Hang it like tinsel or garland. This one can be very pretty!
Mix suet bird seed (nice and thick!), squish it into cookie cutters, and push the shapes out onto greaseproof paper. Partly unwind a paperclip and stick it in each shape to create a hole for hanging. Pop your shapes in the freezer to set. Once they've set, hang them on string. Voila, edible ornaments!
Instead of composting, halve and hang up old fruit by attaching string – even if it is bruised or partly rotten! Apples, pears and other fruit will be appreciated by the birds and other backyard buddies!