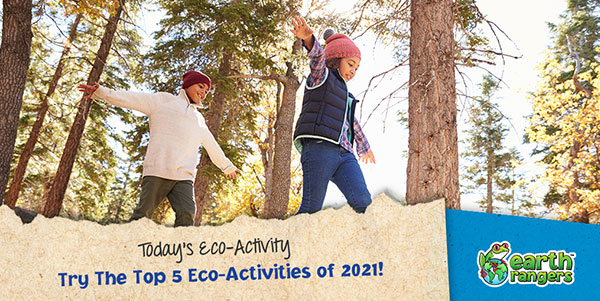 Can you believe that we've done almost 100 Eco-Activities this year? That's pretty impressive, if we may say so ourselves! There were crafts, recipes, outdoor activities, puzzles and so much more. After a year of hard work and fun, we think it's time to look back at our favourite Eco-Activities of the year! How many will you try?

Do you consider yourself a turtle expert? Play a game of "NAME. THAT. TURTLE" and see how many you can name!
Build a bird feeder for our feathered friends who didn't fly sound this winter.

Follow along with Earth Ranger Sadie and make a pair of DIY binoculars!

#2: Learn How to Identify a Tree's Age!
Have you ever looked at a HUGE tree and figured that it's got to be hundreds of years old? Learn the three ways to figure out a tree's age!

#1: Epic Hot Chocolate Adventure!
Make your own hot chocolate recipe and take your hot chocolate with you on an epic outdoor adventure with the whole family!
Check back in 2022 for more fun-filled Eco-Activities!