Have you started your Eco All-Star Card Collection? Learn all about it here!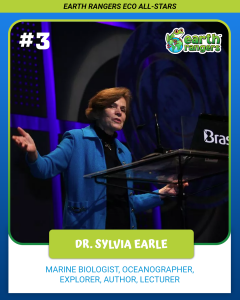 Name: Sylvia Earle
Born: August 30, 1935 in Gibbstown, New Jersey, United States
Environmental Role: Marine biologist, oceanographer, explorer, author, and lecturer
When it comes to protecting the ocean, it's hard to find someone more dedicated than Dr. Sylvia Earle. Spending much of her career underwater, Dr. Silvia studied the impact of oil spills on the ocean, and paved the way for women in marine biology She also founded Mission Blue, a group devoted to exploring the ocean and fighting to get as much of it protected as they can.

---
Dr. Sylvia Earle Eco All-Star Fast Facts:
1. Dr. Sylvia Earle led the first-ever all-female team of aquanauts to live in an underwater habitat to conduct research in marine biology! Aquanauts are like astronauts, but instead of going into space, they go underwater!
2. She holds the world record for the deepest solo dive by any female at 381 meters (1250) feet. In fact, she set that record in 1979 and it still hasn't been broken!
3. She is known as "Her Deepness" and the "Sturgeon General" for her diving and scientific accomplishments!
4. She was the first female chief scientist of the U.S. National Oceanic and Atmospheric Administration.
5. In 1988 she was named a National Geographic explorer-in-residence, and in 1998, she was named Time Magazine's first Hero for the Planet.6. She's received many awards for her environmental work including the Seattle Aquarium's lifetime achievement award, a TED prize, and was inducted into the National Women's Hall of Fame.
Dr. Sylvia Earle's work as a scientist, diver, environmentalist, and explorer has helped us better understand our oceans and the role we can play in protecting them. She serves as a role model for environmentalists everywhere by following her passion, blazing a trail for female scientists, and working hard to save our oceans!
Collect this card by leaving a comment telling us what you admire most about Dr. Sylvia Earle!