Hi Earth Rangers!
Here is an update on what's happening with the narwhals in Pond Inlet and my soundscape ecology research. I have almost completed the analysis of the narwhal calls from our 2017 and 2018 summer recordings and am busy writing the results up. Our recorders captured a total of 88, 655 narwhal calls! We have also heard vocalizations from ringed seals, bearded seals, and bowhead whales.
To understand the underwater sound environment in Tremblay Sound, I have looked at the patterns of sounds over the Inuit seasons and months. I have found that it is quietest in during the Ukiassaaq (Early fall) and Upringaaq (Spring) and loudest in Aujaq (Summer). It gets quieter when the sea ice is forming and melting because the slushy and soft ice absorbs more sound. In the summer the ocean becomes louder with noise from ships, marine mammals, waves, and the wind.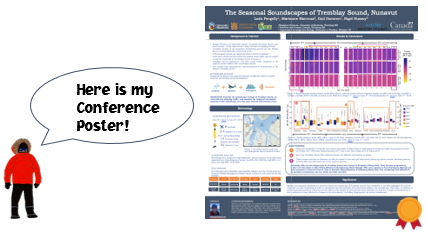 In December, I went to Toronto to share my results at ArcticNet, a conference for Inuit, arctic scientists, policy makers, and managers. I gave a presentation and had a poster showing the different results. My poster won a prize in the marine science category!
In 2023, I am planning a visit to the community of Pond Inlet, Nunavut to meet with the community members and share our research findings!
In other exciting news, after hearing the concerns of Inuit and scientists, the government has decided not to let the Baffinland mine expand its operations for now. This means narwhal won't see an increase in shipping in this area until we can learn more about how these animals react to shipping and how to lessen the impact of shipping on Arctic marine mammals, Inuit communities, and the Arctic environment.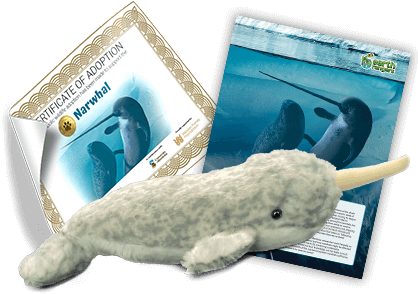 Don't forget that you can help support this important research with a Narwhal Adoption Kit, available through the App or E-Store today!