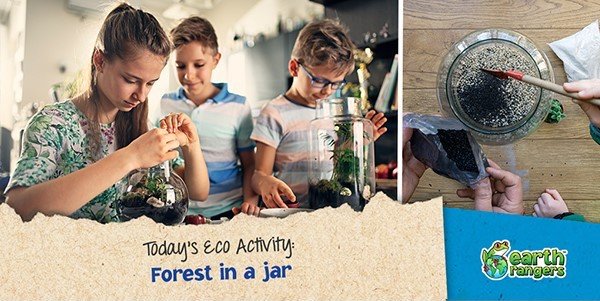 Forests are magical places, and we don't know about you, but we take every chance we get to go out and enjoy them! Sometimes though that's just not possible, so for today's eco-activity we're bringing the forest to you with this DIY terrarium!
Here's how to make it:
1) Head out on a nature walk to your fave forest to collect your supplies! Here's what you'll need that you can find outside:
 a. Small rocks or pebbles
 b. Moss or Soil
 c. Interesting leaves
 d. Twigs & Bark
 e. Pinecones & Acorns
 d. Bird feathers and other forest treasures
2) Gather the rest of your supplies, including:
 a. A glass jar with a lid (pick any size you want for your terrarium!)
 b. Activated charcoal to purify your terrarium (optional)
 c. Any additional decorations or figurines
3) Start by filling the bottom of your jar/bottle with pebbles. You'll need a layer at least 1 inch thick to collect water, but you can add more if you like!
4) Add a layer of activated charcoal on top of the pebbles
5) Add a layer of soil on top of the charcoal
6) Add a layer of moss on top of the soil
7) Add your decorations if you're using them, spray the moss with a bit of water, close your jar, and enjoy!
Your terrarium will do best somewhere it gets a good amount of sunlight (avoiding direct sunlight as this might dry it out). It might need a spray of water every now and then, but your mini ecosystem in a jar should sustain itself for the most part!