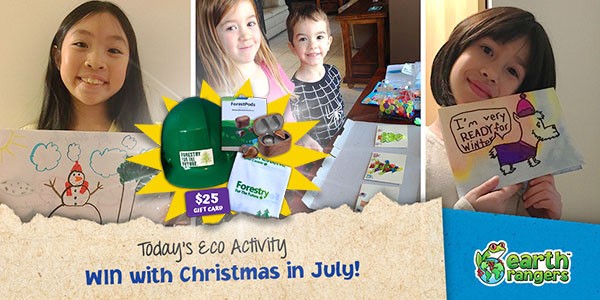 Summer might be in full swing, but we've got a different holiday on the brain here at Earth Rangers. Our friends at FPAC (The Forest Products Association of Canada) want your help: they're working on designing this year's holiday card, and they want to feature YOU front and centre! Simply create a piece of art that captures the beauty of trees and forests, then submit it to win one of THREE swag bags full of goodies, plus a chance to have your artwork featured on their Christmas card!
Here's what you need to know:
1. Your artwork can be a painting, drawing, or you can get creative and design something using found forest materials – the sky is the limit!
2. The more creative the submission, the better! Take a walk through your fave forest and keep your eyes peeled for some inspiration, or think back to a time when you were awed by an outstanding tree – can you recreate this moment on paper?
3. Your submission doesn't have to be festive, but if you feel like getting into the holiday spirit, bring it on!

Hurry: the contest closes on August 8, so be sure to submit your entry soon! Good luck, forest fans!