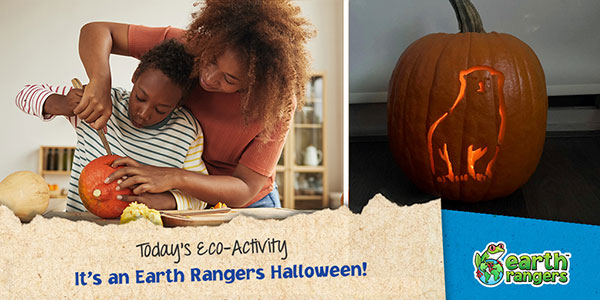 Spooky season is upon us, which means that stores are filled with costumes, candy, and of course, pumpkins. For today's eco-activity, we're going to get into the Halloween spirit by creating an Earth Rangers themed jack-o'-lantern! Take a look at the suggested themes below and get carving. Tag us in photos of your pumpkins on Instagram, Facebook, or Twitter in order to receive five points in the Earth Rangers app!
What you will need:
A pumpkin
A pumpkin carving knife or pumpkin carving kit
A spoon
A bowl
A permanent marker
Newspaper or recycled paper (optional)
A candle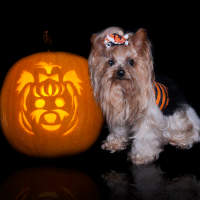 Take a look at the templates below for some inspiration and get carving! Want to get creative? Feel free to make your own design!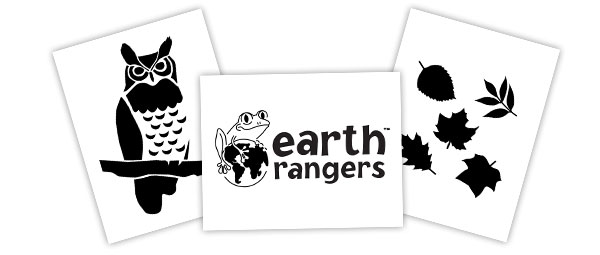 Click here to download Earth Rangers pumpkin carving templates!
Instructions:
Place your pumpkin on a bed of newspaper, recycled paper, or on a surface you don't mind getting a bit dirty!
Draw a circle around the top of the pumpkin with your permanent marker. Use the pumpkin carving knife to cut around the circle until you can lift the 'lid' off your pumpkin. Note: Never use a knife without the supervision of an adult
Remove the gooey insides of the pumpkin! Use a spoon, or one of the tools in your pumpkin carving kit, to get everything out. Quick yummy tip: place all the seeds in a bowl to roast later (delicious!)
Using the theme suggestions below, come up with an idea for what you want your pumpkin to look like
When you're ready, draw your design on your pumpkin with a permanent marker. Tip: Think about what it will look like when you remove certain parts of the pumpkin to create your design!
Use the pumpkin carving knife to carve out your design
Place a candle inside your pumpkin and with the help of an adult, light it
Take a photo of it and tag us on Facebook, Instagram, or Twitter to receive five points in the Earth Rangers app!
Need some ideas for your Halloween costume? Check out Eco-Activity #148: Make your own Badger Mask! & Eco-Activity #159: Make your own bear paws!