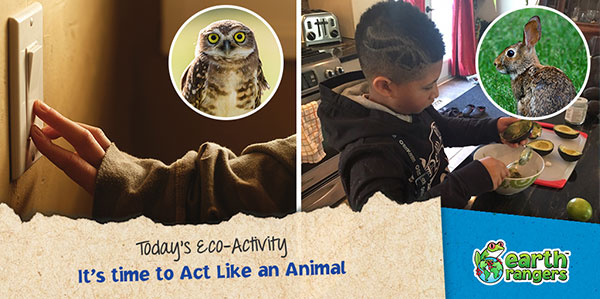 Paw-don me, but we need a couple copycats right meow! Yes, we're fur-real! For today's Eco-Activity, we want you to Act Like an Animal and help slow down climate change!
When it comes to being climate-friendly, we can learn a lot from our animal pals! After all, when was the last time you saw a polar bear crank up the heat or a squirrel cut down a tree? They are true climate champions. So why not adopt climate-friendly habits from some of your favourite species? Here's how:
Step 1: Join the Act Like an Animal Challenge
Visit Project2050.ca or the new section of the Earth Rangers App and join the Challenge!
Join online or on the Earth Rangers App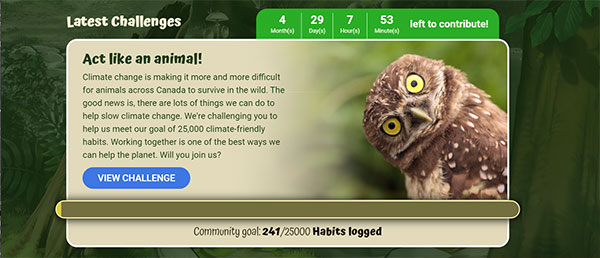 Step 2: Choose your animal-inspired climate-friendly habits!
You can hoof it like a caribou, do the beluga whale wash, hand it down like a hermit crab, and many more!

Step 3: Log your habits to unlock rewards and complete the community goal!
When you're finished, log your habits in the app or on Project2050.ca! The more habits you complete; the more rewards you unlock! Plus, every habit logged gets us closer to reaching the community goal!
Step 4: Teamwork makes the dream work!
Encourage your friends and family to adopt these climate-friendly habits with you.
Step 5: Come back and Act Like an Animal every day!
Don't forget to log your habits each time you complete them. The more you Act Like an Animal, the more you help slow down climate change!
The Act Like an Animal Challenge is part of Earth Rangers' new Project 2050: Climate-friendly habits to change the world. Team up with other kids from across Canada and help protect our planet!