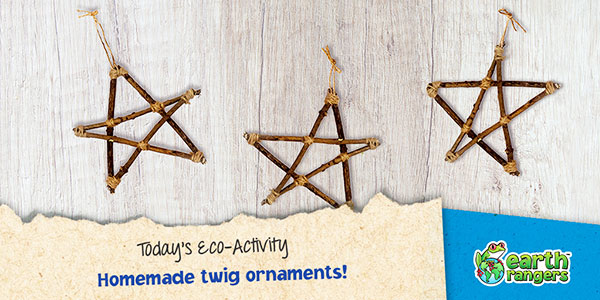 It's the perfect time of year to make some homemade decorations for the holidays! Why not show off your love for forests by getting twiggy with it? For today's Eco-Activity, you'll be making some twig ornaments that are sure to be the star of the show!

Instructions
1. Head to the forest to collect twigs. Look for ones that have the same thickness. While you're there, pick up any extra forest materials you'd like to use as decorations for your ornaments. 
2. When you're back home, glue the twigs into shapes you like. It can be stars, snowflakes, or anything else you can come up with.
3. Once they're dry, start decorating them. Don't be afraid to get creative! You can use paint for some colour, cotton balls for snow, glitter for some sparkle, and other forest materials to spruce it up!  
4. Glue both ends of some string to the end of one of the twigs to form a loop. Make sure the loop is big enough for you to be able to hang up your ornament.
5. When the glue is dry and the loops are in place, hang your ornaments up where your friends and family can see them!