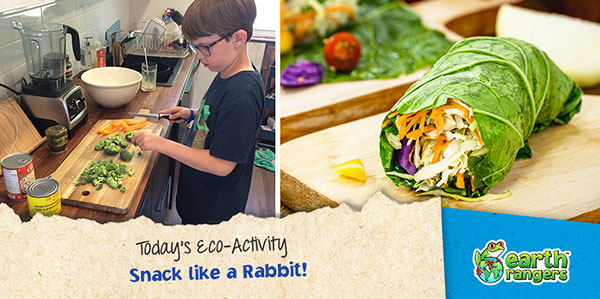 Have you checked out the Act Like an Animal Challenge yet? It's all about adopting habits from the animal kingdom to help us slow down climate change. We're very excited to say that we're so close to meeting our goal. Will you help us get there?
One of the habits is to snack like a rabbit and leave the meat behind. This will be no problem for our vegetarians, but it might be a little harder for the meat-lovers out there. Don't worry, we're here to help. Bust out those veggies because we're making some delicious lettuce wraps!

Instructions
1. Ask your parent or guardian to help you with this dish
2. If you're using beans and rice, prepare them according to their instructions, or for extra eco-friendly points, use leftovers!
3. Wash and chop up your veggies. Cook them up if you want them to be softer, or leave them raw for some crunch!
4. Remove some leaves from the head of lettuce, wash them and let them dry.
5. Grab some of your prepared ingredients and veggies, and place them in the centre of one of your pieces of lettuce.
6. Add some hummus for some extra flavour.
7. Fold your lettuce around the ingredients and enjoy!
Looking for more meat-free meals? Check out these ideas to help you get started!