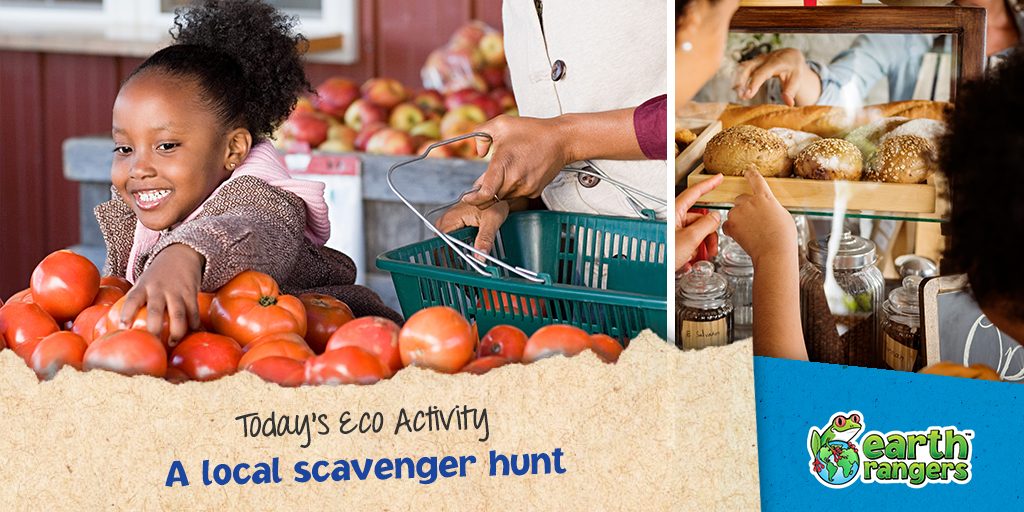 Your local community is an important place! A strong community can be a powerful asset, and learning to support local people, ecosystems and businesses is just one way to strengthen your community. This scavenger hunt will help you to explore your neighbourhood and all of the components that make up a community, aiming to find some local spots to support along the way! So buckle up, grab a parent or guardian, and set off upon this local scavenger hunt!
Here's what you'll need to find to become a local connoisseur:
A local bakery or cafe. Enjoy a locally made baked good one weekend morning to start the day right! Don't forget a reusable bag for your goodies.
A local greenspace. Explore a new local park or conservation area to get outside and observe the nature around you. Want to take it one step further? Bring a set of gloves and a repurposed plastic bag to pick up any litter you may pass by to keep your community clean and beautiful!
A local thrift store. Thrifting is not only a fun activity to do with friends and family, but shopping second-hand helps reduce your carbon footprint and makes sure perfectly good items get a new life!
A local grocer. Get your produce from your local grocer to support a small, often family-run business!
A community garden. Do you have an interest in gardening but don't have the space? Try to locate a community garden to grow your very own veggies, fruits and flowers. This is a great place to meet other eco-minded people too!
A local farmer's market. Busy and bustling market stalls filled with fresh produce, bread, and local goods harbour a wonderful environment of supportive community members interested in shopping local.
A local general store. Whether you've run out of milk or just need a little treat to keep you going, running to your local general store for pantry staples provides support to a cornerstone in your community.
A local artist. Whether there is a local painter, potter, sculptor, glass-blower or embroiderer nearby, check out their work when you need to purchase gifts for loved ones or maybe a little something for yourself!
A local refillery. Lucky for us, eco-friendly living is on the rise and we can now find refilleries popping up all over Canada. A refillery is a place where you can get household products, like dish soap and laundry detergent, as well as personal products like shampoo and conditioner all in bulk with reusable jars and containers. Help keep these zero waste hubs going by supporting your local refillery!
A local trail system. Get outside, breathe in the fresh air, and see what other organisms, like plants and animals may be part of your local community!
By finding all of the places or things on this list you will get the most out of your community and become a local connoisseur! Not only that, but you'll have something to do or support for every occasion. Enjoy this neighbourhood exploration and support your local community.
---