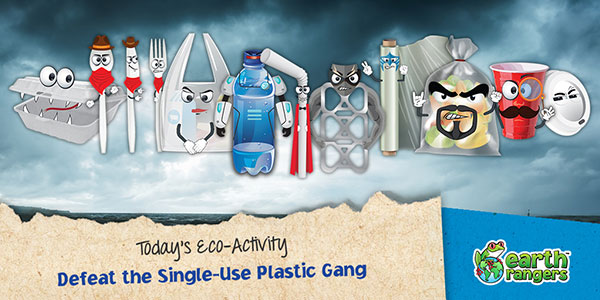 The Single-use Plastic gang is up to no good and are causing all sorts of problems for the planet. Help us stop them, and you could win a super awesome prize pack! For today's Eco-Activity, enter the More Plastic More Problems Contest!
The problem:
Single-use plastics are designed to be used once and then thrown away. Not only does it take a lot of resources to make them, they also contribute to climate change and can be really bad for animals.
The solution:
We know just how to stop this gang of troublesome bad guys. Just cut them out of your life. All you need to do to defeat them is replace them with reusable products.

How to enter:
Take a picture of you with your reusable products (one product per picture) and visit earthrangers.com/plastic-contest to upload them and fill out the contest form. Each photo of you defeating (replacing) a single-use plastic will earn you one contest entry, for a maximum of 10 entries. Upload all 10 photos at once, or upload some now and come back later to upload the rest—it's up to you!
What you can win:
3 winners will be chosen and win an awesome prize pack that includes:
$100 Visa gift card
An Earth Rangers wheat straw lunch box
An Earth Rangers water bottle
An Earth Rangers frog plushie
The contest ends March 31 at 11:59pm ET. Don't miss out on your chance to win!