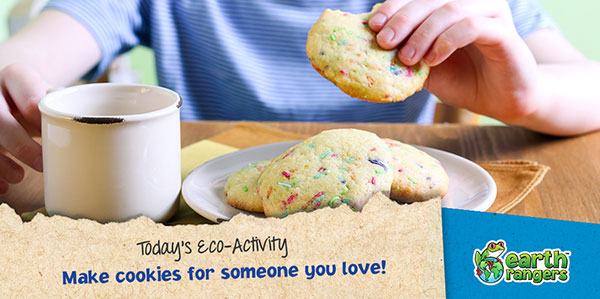 Valentine's Day is just around the corner, and love is in the air at Earth Rangers. Now is the perfect time to show someone how much you love them. We've got just what you need: mouth watering, easy-peasy cake cookies! For today's Eco-Activity, let's get baking!

Instructions
1. With the help of an adult, preheat the oven to 350°F.
2. Pour the cake mix into a big bowl and add the eggs and vegetable oil. Mix until you form a dough. If you want to add candies to your cookies, mix them in now.
3. Take a bit of the dough, roll it into a ball, and place it onto an ungreased baking sheet. Repeat until you've used up all the dough. Make sure to leave some space between the balls because they will get bigger as they bake.
4. If you want to add sprinkles to the top of your cookies, do it now. Make sure to clean up any sprinkles that fall onto the baking sheet so you don't waste them.
5. Put them in the oven and let them bake for 8-10 minutes, depending on your oven and the size of your cookies.
6. Take them out when they're done and let them cool.
7. Share your cookies with someone you love!