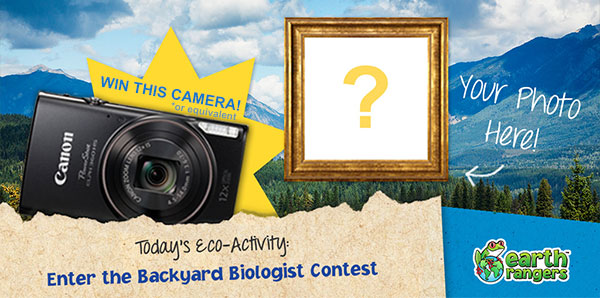 Whether you live in the country or in the city, there are interesting plants and animals all around you. Just head out to your local park, pond, or even just look closely at the ground beneath your feet. You'll be amazed at all the life you see! And until June 12, snapping a picture of this biodiversity could make you a winner!
For today's Eco-Activity, we want you to get outside, snap some pictures and enter the Backyard Biologist Contest!
We'll pick one winner from each of the following categories:
Here's what you need to do to enter:
Share your pictures with us in the Backyard Biologist Mission in the App, or at www.earthrangers.com/backyardbiocontest. You can upload one picture per category. Make sure you include a description of the photo and an explanation about how you identified it (as any true biologist would do, of course).
The Prize:
The winners get an awesome camera from Canon and have their photographs displayed in the Schad Gallery of Biodiversity at the Royal Ontario Museum! Pretty sweet, right?