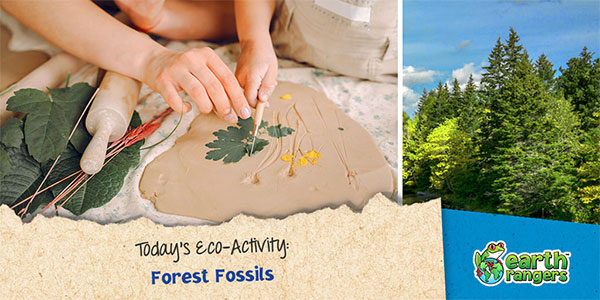 With summer in full swing, we love getting outside and exploring our wonderful forests. There's something so lovely about seeing the beautiful trees and their leaves dancing in the wind. Wouldn't it be great if you could bring home a tidbit from your adventures to keep forever? Guess what…you can, and it's pretty easy!
For today's Eco-Activity, we'll be making some lovely leafy fossils!

• Head outside and get searching for the coolest leaves around! Make sure they're super veiny or thick needles—those ones will look the best as fossils.
• Once you're happy with your collection, make sure there aren't any hidden critters, and then head back inside.

• To make your salt dough, combine the salt and flour in a bowl, then slowly mix in the water. You probably won't need all of it, just enough for the dough to feel like playdough.
• Roll or press out your dough to be about 1 cm thick, in any shapes you'd like. You could use a cookie cutter on your rolled out dough, or split your dough into pieces and flatten each one.

• Ask an adult to preheat the oven to the lowest setting.

• Firmly press the back of each leaf onto your soon-to-be fossils, making sure the whole surface is touching the dough to get the best imprint!
• Peel off the leaves, and place your fossils on the baking sheet. Bake for 1-2 hours, depending on your oven.
• Once your fossils have cooled, all that's left to do is decorate and show them off!
---