Did you know that Canadians waste $31 billion worth of food each year? But it's not just the food that is wasted – the energy that goes into growing, packaging and transporting all that food is wasted too. Food waste contributes to changes in our environment, takes up valuable space in landfills and attracts wildlife (who can get sick from eating it). So for this Mission, we want you to become a Food Waste Warrior!
As you can see, food waste is a BIG problem. That's why it's so important that we pay attention to what we throw away. Now, we all waste food sometimes – like that container of cream cheese that goes bad before you've had a chance to finish it or the lettuce that disappears into the back of the fridge and turns to goo – but with some planning, we can really cut back on the amount of food we waste.
Your Mission: Don't throw away any food for a whole week!
We know going a whole week without throwing away any food might sound really hard, but we're here to help! When you accept this Mission, you'll get a Mission brief with tips to help you on your way to becoming a Food Waste Warrior! You also get a Food Waste Tracker to will help you stay on track. As a bonus, for every day you go without throwing away any food, you'll earn a cool reward!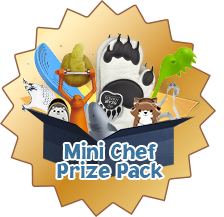 And don't forget to enter the Food Waste Warrior Cooking Contest!
The contest is now closed. Thanks to everyone who participated. Stay tuned to find out the winners!
Don't just reheat those boring leftovers! Transform them into a new meal and it could earn you an awesome prize. First place will get the Mini Chef Prize Pack, which has is filled with all sorts of fun animal-themed kitchen tools and gadgets! Four secondary prizes will also be given away.
We're excited to announce our special guest judge, Chef Michael Smith! You might remember him as the judge from the What's at Steak Cooking Contest. He has such a fun time judging the last contest that he's back again and can't wait to see the creative and delicious meals you come up with!
Are you ready to become a Food Waste Warrior?

This Mission was made possible by:

Source:
Gooch, M., Felfel, A. (2014). "$27 Billion" Revisited: The Cost of Canada's Annual Food Waste. Value Chain Management International; Value Chain Management Center. December 10, 2014. http://vcm-international.com/wp-content/uploads/2014/12/Food-Waste-in-Canada-27-Billion-Revisited-Dec-10-2014.pdf Accessed on November 15, 2017.
Don't forget that commenting on articles helps you level up on your Earth Rangers Journey! You only need 5 comments to reach Level 3 and 15 to reach Level 5. All comments are moderated, so your comment won't be visible until we've had a chance to check that it's squeaky clean.