Calling all artists and crafters! Are you ready to get creative? Well, you're in luck, because ATK in Action is here! For this Mission, you'll need to put on your thinking cap and grab your art supplies to channel your inner artist and share the knowledge of an Elder.
When it comes to protecting animals, Western science doesn't always have all the answers. That's where Aboriginal Traditional Knowledge (ATK) can help!

What's ATK?
ATK is the gathering of information from history, cultures, traditions and values that make up who an Aboriginal person is. It is the knowledge that the Elders pass down to children from one generation to the next and it helps with problem-solving and decisions-making.
How does ATK help us protect animals?
Through their shared experiences gained by living off the land for generations, Aboriginal people have gained a close connection with nature, and have discovered ways to interact with it that other cultures might not think of. Not only can ATK teach us about traditional practices like hunting and fishing, but it can provide important information about animal migration patterns, the usefulness of plants and animals, different ways to farm and even how to best protect animals and their habitats.

ATK isn't learned from textbooks. It is shared through storytelling, dancing, singing and even art!
The Inuit, for example, use drawings and sculptures to show how their ancestors hunted and survived in some of Canada's harshest climates.
What makes ATK even more interesting is that animals are featured in many teachings because they represent different themes or morals. You can learn a lesson about kindness by listening to a story about an orca, or about courage from a bear. Different animals have different meanings for each group, and you'll see some of these in the ATK in Action Mission brief, but you can check out even more amazing examples here!
For this Mission, you'll continue this tradition in your own home by turning a story into an amazing animal masterpiece!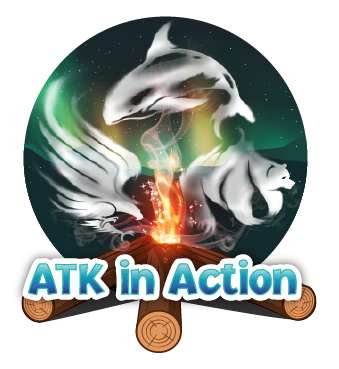 Step 1: Ask an Elder in your life, like an Aboriginal Elder, a parent, grandparent, aunt, uncle or someone else in your community to tell you a story about an experience they had in nature. You can encourage them to tell you about a time they rescued an animal, discovered something new in the wild or learned a lesson from nature.
Step 2: Look through the Aboriginal teachings in the Mission brief to find an animal that represents the theme of the story you heard.
Step 3: Create an art piece that features the animal you picked.
Step 4: Before you put your artwork on display, send us a picture!
Complete the ATK in Action Mission and you could win!
Contest is closed
For a limited time, when you complete this Mission, you'll have the chance to win 1 of 10 prizes! You could win an authentic Inuit soapstone carving of a dancing polar bear! Plus, all finalists will win a $25.00 iTunes gift card!