Joel, a member of Earth Rangers, is dedicated to making a different – especially when it comes to protecting Bees and Other Pollinators! Ranger Joel has something to be extremely proud of, and his enterprising ideas have started quite the buzz: Ranger Joel has become quite the entrepreneur, proving that one person CAN make a difference!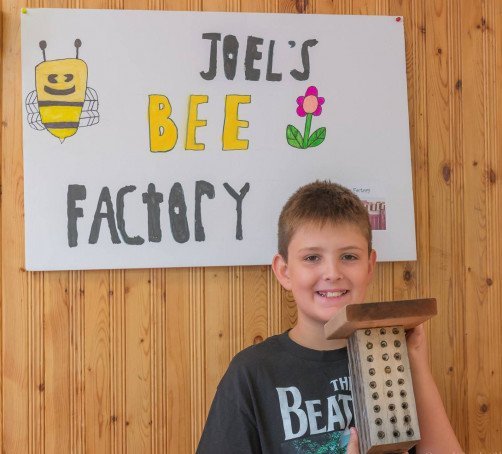 Initially inspired by Earth Rangers to make a Bee Condo, Ranger Joel wanted to go one step further and make a big difference, and his work? Well, let's just say it hasn't gone unnoticed! His Bee Condo Project is absolutely BUZZing: His Bee Condos seem to be spreading all over the countryside in Newfoundland and Labrador, where Ranger Joel's project is based. He has sold over FIFTY Bee Condos, and on National Bee Day he even spoke about the significance of his project; educating both kids and adults in the importance of bees and other pollinators! Joel's project is called Joel's Bee Factory, and he says that the business is important because "…the bee condos protect the bees. Like, not all bees live in hives so they have their babies in their nests." By providing a safe home for the bees, Joel makes sure that they are able to create nests and keep their hives safe. Now that's something to buzz about!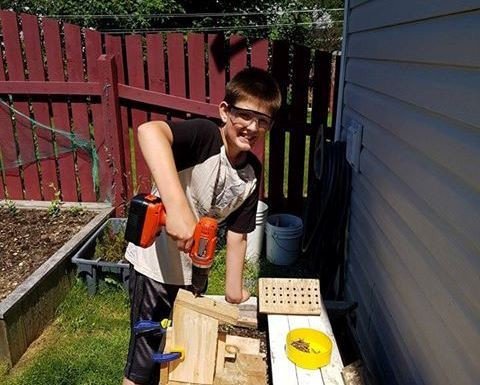 Ranger Joel says, "I build the bee condos myself, and sell them. I also explain to people the importance of bees. I recently did a presentation on Bee Condos to the Nature Club at the Fluvarium. I've also visited Manuels River Interpretation Centre and installed 6 Bee Condos along their walking trails." This summer Joel donated some of his Bee Condos to a local camp at the Brother Brennan Environmental Education Centre, and he was also asked to join staff at Manuels River Hibernia Interpretation Centre in an effort to provide a safe-haven for bees!
Earth Rangers isn't the first organization to take note of Joel's Bee Factory. In fact, Ranger Joel has been featured in a local Magazine called "Downhome", he's been interviewed by CBC, and (wait for it) he has even been noticed by Dragons Den! Wow, Ranger Joel, that's pretty impressive!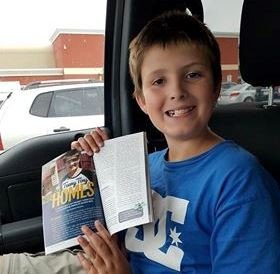 Even with a buzzing business, Ranger Joel still finds time to continue being an active member of Earth Rangers! Ranger Joel says, "I learned about Earth Rangers through a television commercial", and he says that he knew right away that Earth Rangers was on a similar mission: protecting the natural environment and saving animals and their habitats! Since discovering Earth Rangers, Ranger Joel has been an avid member completing important missions to help green his community like Shoreline Saver and of course Pollinator Power. He planted native pollinating flowers and vegetables in his own back-yard, and (you guessed it) he also installed one of his very own Bee Condos! Though we might be highlighting Joel's Bee Factory, and his work for Bees and Other Pollinators, Ranger Joel is also an avid recycler. Ranger Joel says, "My family lives by The Three R's; Reduce, Reuse, Recycle – recycling is very important." Joel and his family strive to save as much energy as they can to help reduce their carbon footprint: "We reduce by ensuring we don't over use energy or water in our home, we reuse by making sure we have reusable items like water bottles or grocery tote-bags, and we recycle anything that can't be reused – that way we make sure nothing ends up in our landfills that doesn't belong there."
So, you might be wondering what's next for Ranger Joel? Well, Joel intends to keep his business buzzing! "On September 17th I showcased my work at the Annual Heart and Stroke Newfoundland Mini-Farmers Market "Heart in the Park". Ranger Joel's hard work doesn't just help save bees by providing them with a home; his work also promotes important conversations about protecting nature and animals.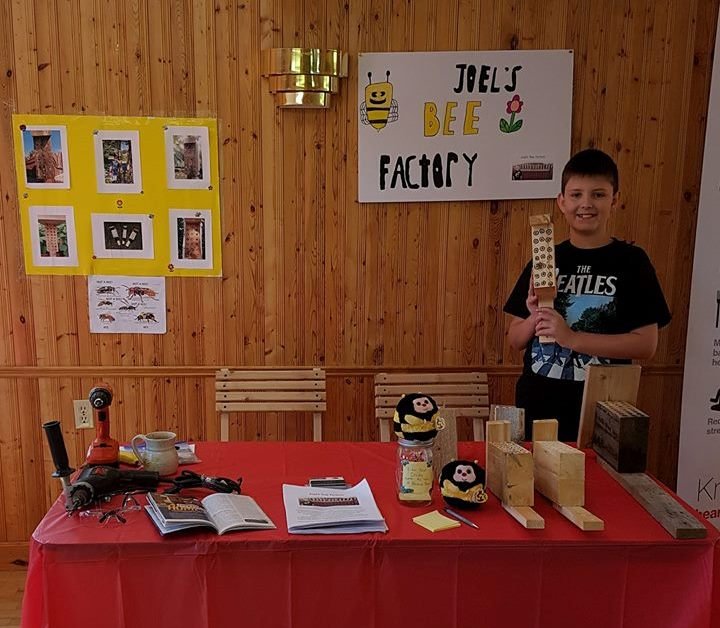 With that in mind, Ranger Joel wants to leave us with one very important message: "It's important to protect Bees," he says, highlighting the fact that bees are essential pollinators. "If we don't protect them we will mess up the whole food chain."
Thanks so much for all of your absolutely AMAZING hard work Ranger Joel! You truly are an earth-saving hero!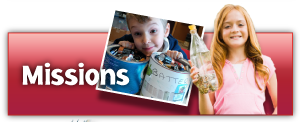 Love this article and want to leave a comment? Not to worry – your comment will be visible after it's checked by our Team to make sure it's thoughtful and squeaky clean. Check out our posting guidelines here. (http://www.earthrangers.com/wildwire/earth-rangers-wild-wire-blog-the-how-to-guide-on-commenting-up-a-storm/)