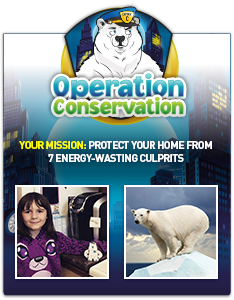 A couple of months ago we challenged our members in Alberta to do their part to slow down climate change just by saving energy at home – and boy did they deliver! We asked them to join Captain Conservation in his quest to capture some of Earth Rangers' Most Wanted energy-wasting villains, like the Terrible Tap and the Power Phantom, and we're excited to share our winners!
Grand prize winner: Earth Ranger Benjamin
Benjamin found all the villains (Terrible Tap, Lousy Leak, H2O Hog, Sinister Suds, Devious Draft, Thermo Inferno, Power Phantom) in his home!
Secondary winners: Earth Rangers Maddyson and Tristan
Maddyson found and stopped the Devious Draft in her home and said "It was a great idea to see if I could find out any 'villains' and try to stop them."
Tristan said: "I went through my house and didn't find any of the villains. We have started to use less water." He also said his family started unplugging electronics like battery chargers, coffee makers, electric toothbrushes, and nightlights when they weren't in use.
These Earth Rangers did an amazing job – way to go! Want to join them in their quest to keep The Earth Rangers' Most Wanted out of your home? Accept the Operation Conservation Mission and get started today!
Generously supported by:

Additional support in Alberta from: