This summer, our friends at The Forest Products Association of Canada (FPAC) asked for your help to design their 2021 holiday card! Earth Rangers from across Canada got crafty and created some incredible artwork that captured the beauty of forests and trees!
After looking through all of the amazing artwork that was sent in, the FPAC team made their decision (drumroll please!).
Congratulations Earth Ranger Livia, your artwork will be featured on FPAC's 2021 holiday card!
Not only will we see Livia's fabulous drawings on FPAC's holiday card, but FPAC sent her a special prize pack that included forest pods, a chapters gift card and other goodies!
A note from Livia:
The page folds in half to be the front (winter scene) and back (holiday Earth Ranger logo – an ornament, and FPAC symbol – turned into a Christmas tree) of a holiday card.
There were so many amazing cards with wonderful artwork that FPAC sent prize packs to two more Earth Rangers!
Congratulations to runners-up Rayyaan and Maiya!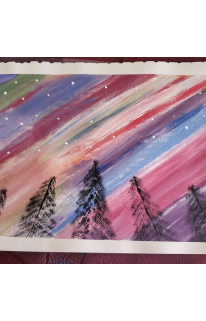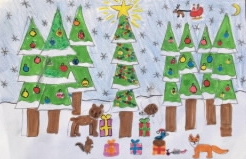 A note from Maiya:
It's Christmas time for the animals! From the biggest bear to the smallest mouse, everyone is welcome at this Christmas tree! My card depicts a child hugging a tree, surrounded by nature. She is expressing her happiness to be outdoors and her gratitude for the forest. The winter scene also shows some animals, such as a cardinal, hare, and squirrel.
A big round of applause to these amazingly talented Earth Rangers!
Want to enter this year's contest? Click here!