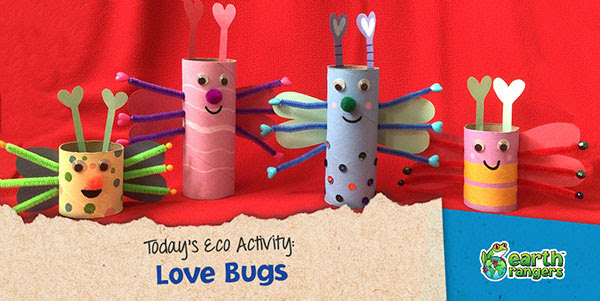 Valentine's Day is right around the corner and we've got the perfect craft to get you in the spirit! This adorable DIY has everything we LOVE – crafting, sustainable materials, and the opportunity to show friends and family you CARE! Plus there is no limit to how creative you can get with these cute cardboard creepy-crawlers!
All you need to get started are toilet paper rolls – the rest is up to you! Here are some suggestions for other materials to look around the house for:

Now let's get crafting!
Decorate the toilet paper roll first for your bug's body.
Poke 3 holes on each side of your roll, then weave a pipe cleaner through to make legs. Fold the ends into a little ball for feet, or thread on beads for added colour.
Fold a piece of construction paper in half and draw a medium-sized heart on it, with the point along the fold. Then cut it out while the paper is still folded in half so you end up with two connected hearts – these are your love bug's wings! Glue them onto the back of your roll.
Add details like antennae, eyes, and stripes or polka dots. Maybe even a pom-pom for a nose!
Do you and your family know someone who could use a little extra love these days? Maybe a grandparent, a local business, or even your next door neighbour! Spread the love and leave your crafted creation on their doorstep with a note saying how much they are appreciated! It's a great way to send a kind message while practicing safe social distancing!
Don't forget to share a photo of your drop-off and tag us on Facebook, Instagram, or Twitter! We LOVE to see our Earth Rangers inspiring others.