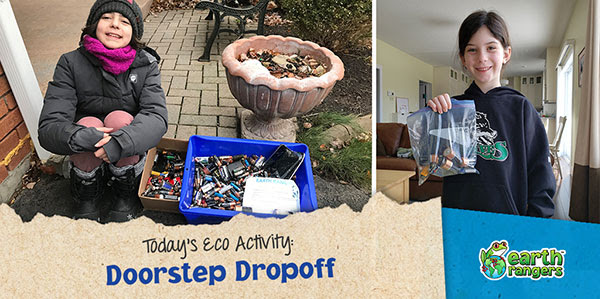 Today is #NationalBatteryDay! Get in touch with your family, friends, and neighbours nearby to coordinate a safe doorstep dropoff for used batteries. Just ask them to collect their used batteries in a zip-sealed bag and drop it off at your place so you can take care of the run to your nearest recycling drop-off spot when it's safe to do so.
If you live in a building with direct access to the outdoors, all you'll need is a weatherproof, non-metal container to label and leave outside your home. If you're in an apartment building, you may have to coordinate with your contributors a little more carefully for contactless dropoffs, but we promise it will be worth it! By making an awesome effort to collect batteries to recycle, you're also helping keep potentially hazardous waste out of natural spaces – animals in your area will be so thankful!!
Here are some ways to level-up your doorstep dropoff!
Decorate your bin and add a fun sign so people walking by know they can add to your effort
Put up signs around your neighbourhood (yard sale style) to let your 'hood know they can drop off their batteries too!