*Please note: Limited quanity gift packs from FPAC are no longer available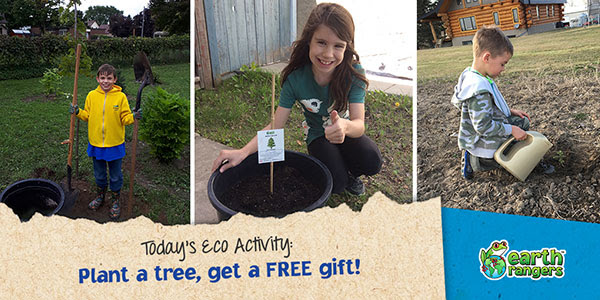 As an Earth Ranger we probably don't need to tell you how important trees are. Besides being nice to look at, they help fight climate change and give the animals we love a safe place to call home! That's why for today's eco-activity we want you to plant Just 1 Tree!
First, pick a tree that grows well where you live. Click here for a handy guide you can use if you're not sure! Then you'll have to get your tree, and this is where the fun begins. Here's how:
Buy a seed pack from a local garden center and start your sprouting indoors until it's warmer out (tip: save an eggshell and fill it with dirt and use it as your seed pot, then just plant the whole egg once it's sprouted!)
Try to see if you can find a seed in your own backyard! Look for things like acorns, pinecones, or maple keys and replant these to start your tree from scratch. You could even plant the pit from a fruit that grows near you, like a plum or peach!
If it's already warm enough where you live, check your local garden center for a seedling and you're ready to plant!
As a special thank you, FPAC want to send you a FREE kit full of everything a young arborist (that's the term for someone who plants, manages, and studies trees) needs to get started! Your kit includes a buff, a notebook, and a button you can show off with pride. Have a parent/guardian complete the form here and you should receive your kit in 4-8 weeks. But hurry: quantities are limited, so get yours before they run out! In the meantime, you're ready to get planting.