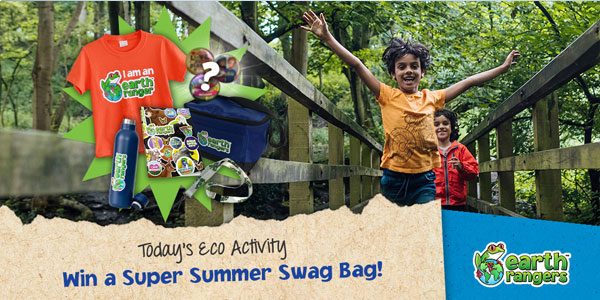 Summer is in full force, so why not enjoy the nice weather and time outside by taking part in Earth Rangers' eco-activities and Missions! Not only will you have a blast, but by taking part in Eco-Activities this summer you'll have the chance to win one of three Super Summer Swag Bags!
Super Summer Swag Bags sound AWESOME – what are they? 
A super summer swag bag is an Earth Rangers bag packed full with amazing Earth Rangers Swag including items like shirts, water bottles, and lunchboxes!

How do I win a Super Summer Swag Bag? 
It's simple! All you need to do is follow the steps below:
Participate in an eco-activity – pick from over 150 ideas here: www.earthrangers.com/eco-activities
Share your photo of your activity and tag #EcoSummer21 and @EarthRangers OR share any of our eco-activities (don't forget to tag us!)
Be entered to win one of three AMAZING prize-packs. We'll be selecting one winner from Facebook, Twitter, and Instagram.
Contest Rules
Entries must be submitted before August 31st at 12:00p.m.
Limit of 3 entries per person on each platform
All entries must either tag us or use the hashtag #EcoSummer21
Our three lucky winners will be announced on September 1st, 2021.