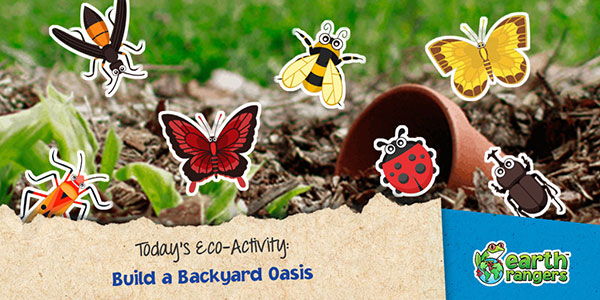 Some people think bugs are icky, but at Earth Rangers, we think they're awesome! Often we only think about them when they show up unexpectedly in our homes and give us a fright, but the reality is, we're trampling all over their homes every day.
For today's Eco-Activity, we're creating a mini nature reserve for all those helpful creepy crawlers living in your yard, on your balcony, or outside your building.

Grab some native plants and plant them in a sunny spot in the garden or in a planter. If you already have plants in your yard, you can just use that area for your nature reserve. Easy Peasy!

Add a shallow dish of water with small stones in it so tiny creatures can drink or bathe. Try and place the water in a shaded area beneath the plants so the water stays cool from the shade.

Check on the dish daily to make sure the water stays full and clean.

Monitor the area so you can see what types of insects are using it. If you have a magnifying glass, definitely use it!
That's it—you're now officially an insect landlord!
---
---
This Eco-Activity is inspired by the
Habitat Hero Mission!

Look for it in the Missions section in the Earth Rangers App!
---