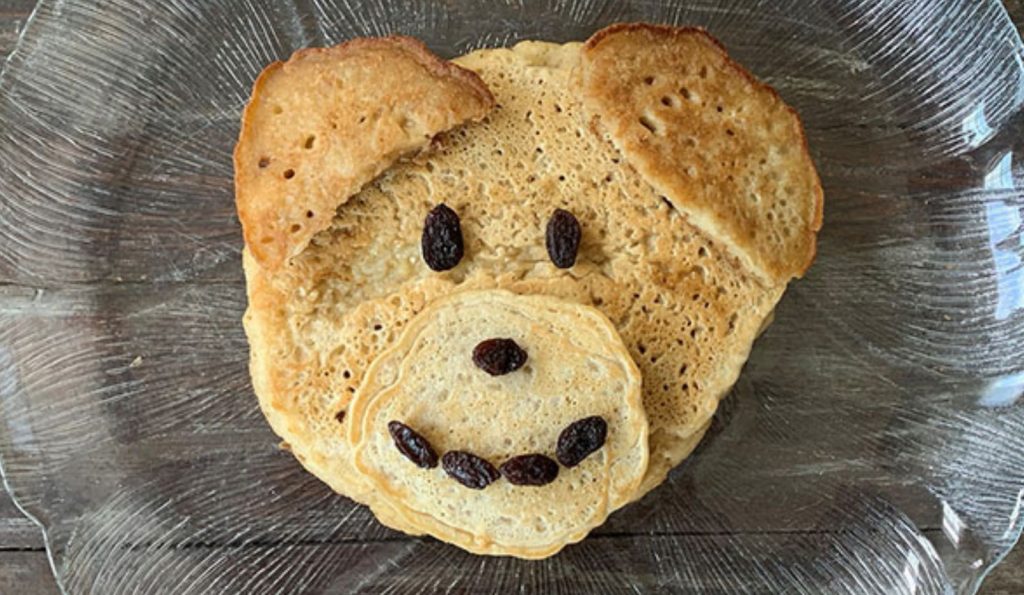 Tomorrow is #NationalTeddyBearDay! We've come up with a delicious meal to celebrate early if you're already feeling a rumbly in your tumbly. Even the littlest cubs at home can help make this with their bear hands! Don't forget to wash 'em before doing this creative culinary activity.
Let's get cooking!
Mix up your favorite pancake batter. Feel free to add in some cooked oatmeal for an added nutritional boost like we did!
Make one large and two small pancakes for each teddy bear you are making.
Place large pancake in the middle of a plate and cut one of the small pancakes in half to use for the ears.
Place the other small pancake on top of the big one for the snout.
Add bananas, berries, raisins, or chocolate chips for the nose, eyes and mouth and your teddy bear is complete and ready to enjoy.
Share a pic of your Earth Ranger with your beary delicious brekkie and tag our official page so we can see how it turned out!
Bonus: Collect teddy bears you have at home and invite them to join you for a teddy bear picnic indoors or in your yard.
National Teddy Bear Day honours the history of one of childhood's favourite toys, and to celebrate we're giving you a special bonus item when you adopt a Grizzly Bear! With each purchase of a Grizzly Bear Plush Adoption Kit, not only will you get your very own adorable teddy bear, you'll also be helping make a difference with a real-life grizzly conservation project, AND for a limited time only you'll receive a limited edition bear amulet necklace as a special bonus gift!