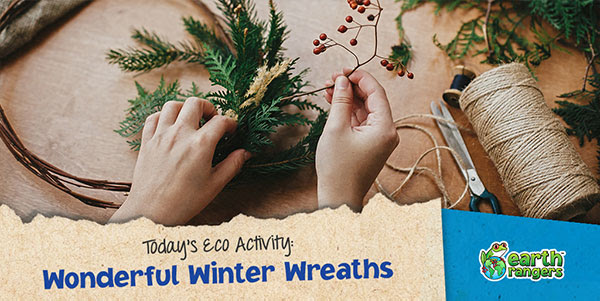 Even though we're more than halfway through January, there's still a lot of winter left here in Canada. While some aren't fans of feeling frigid, we nature enthusiasts LOVE the beauty that comes with a fresh nip in the air!
A great way to add a pop of colour into wintery white scenes around your home is to hang up a wreath or two. And the best thing about them is you can make them yourself, using natural and recyclable materials!
Here's how to create your wreath:
Collect branches from the forest floor, or cut some branches from the trees on your property for fresh scents – they can be from evergreens with lots of needles, birch trees for different colours, or really any other tree! The best branches are ones that are skinny and easily bend without snapping.
Bunch together several sticks at the base of the branch and use floral wire to secure them to a circle of sturdier wire or a wreathe form (easily found at a local craft or dollar store).
Continue this process until you've filled your circle, making sure to use the "fluffy" tail end of each bundle to hide the wiring of the previous one.
Now decorate it! Here are some ideas to weave through the branches and make it truly your own:
Cut snowflakes out using newspaper or scrap paper
Collect some pinecones and add them as-is, or add glitter or paint to give them extra personality
A sprig of berries or slices of dried fruit can add a pop of colour
Make bows and ribbons out of worn-out clothing by cutting long strips of fabric and weaving them through your branches
Add battery-operated string lights to give it some self-powered twinkle at night
Remember to reuse! If you're using lots of fresh evergreen sprigs, even if they do dry out before next year, you can always replace what doesn't keep for another year of proudly displaying your sustainable creation!
Show off your new décor by sharing a pic and tagging one of our official social media channels!