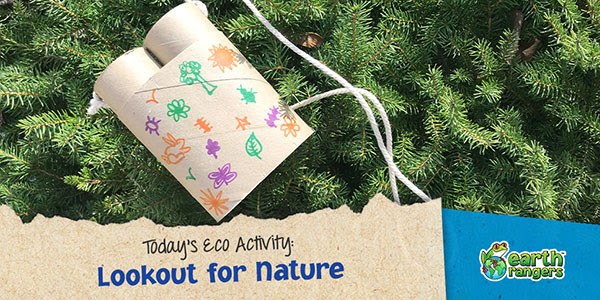 I spy with my little eye… an Earth Ranger looking for outdoor fun! These DIY binoculars are a creative craft fit for any young nature enthusiast, and they can be made with recyclables that you probably have lying around the house! Plus, after you've completed your craft, you can use them for a fun outdoor adventure to observe the natural happenings of your own yard or neighbourhood.
All you need for this craft is a bit of glue or tape, three toilet paper rolls, and some string or yarn! To make your binoculars, first cut one of the rolls down the centre and allow it to unravel slightly. Then use the cut piece to secure two rolls side-by-side, gluing or taping the inside to keep it shut. Once dry, cut two small holes on either side to attach string for a neck strap. Don't forget to decorate it!
Here are a couple ways to get started using your binoculars:
Fly solo: Using scrap paper from around the house, create a nature journal to jot down some of your findings. Come back to the same spot around the same time every day for a week and see if you notice any patterns. Are there any squirrels coming back to check on their stashes of treats?
I spy: With your family, make a pair of binoculars for everyone. Then take turns choosing an object outside that you'll describe and have the others guess what it is. You can even make it a competition!
Can you think of other fun ways to use your binos? Share your story and don't forget to tag us on Facebook, Instagram, or Twitter! Don't forget you can use these as a jumping off point to tackle your Back To Nature mission!

BONUS: Watch this Facebook LIVE to follow along with Earth Ranger Sadie!