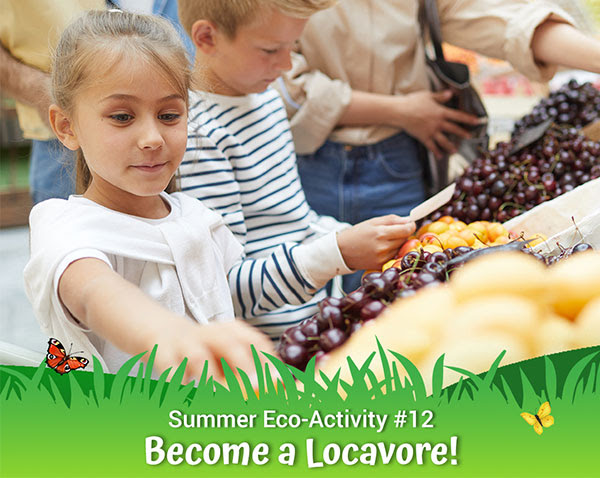 Today, we're challenging you to shrink your family's farm-to-table distance! Being a locavore means doing your best to choose foods that come from somewhere close to home whenever you can. The energy used and emissions released when food travels from the farm to your fork make up a BIG part of its carbon footprint.
Did you know that the average meal travels a whopping 1,200 kilometres from the farm to your plate?! This long distance transportation not only uses fossil fuels that release greenhouse gas emissions, but it also means that the food itself needs to be more processed and refrigerated for longer to keep it from spoiling on its journey. All of this means that food travels a long way to get to you and can have a high carbon footprint, making it a big contributor to climate change.
Let's get local!
Learn more about what's in season where you live so you can pick local produce whenever possible
Find a local grower and get shopping! A farmers' market is a great place to find multiple growers at once. Many even have online stores or other ordering options to make shopping a breeze.
Take a break from at-home cooking and eat at a restaurant that uses local ingredients. Bonus points if you use a sustainable way to get there, instead of ordering delivery or take out! A quick internet search can help you build a list of local eateries that source local ingredients. Usually smaller independent restaurants are a good place to start your pursuit of locally-sourced deliciousness.
Send us a picture of you in action and tell us what you did to Live, Love, Local! Share it (and tag us) along with the hashtag #SummerEcoActivity for your chance to win! Don't forget to follow our page and like the official launch post to qualify for your chance at a prize!*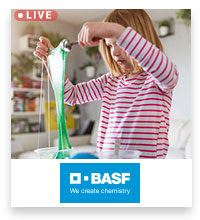 Mark your calendars! On Tuesday August 11 and Tuesday August 25, we've got special interactive versions of our Facebook Live happening, thanks to our friends at BASF! Start collecting your ingredients now so you can join in the fun with Playful Polymers and make your very own SLIME!
5 tbsp of Elmer's washable glue or another craft glue
¼ tbsp of baking soda
Food colouring (2-3 drops)
½ tbsp of contact lens solution (Renu brand)