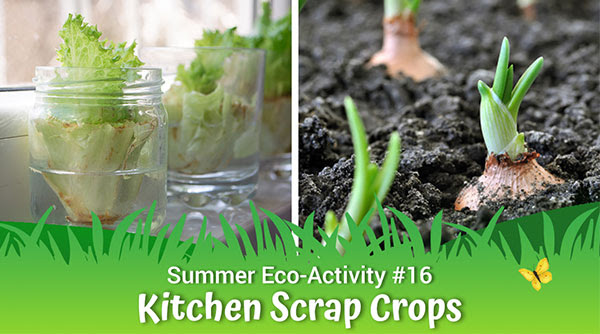 Did you know you can use your kitchen scraps to re-grow certain fruits and veggies right at home? It's easy to turn your food waste into mini crops, right in your very own kitchen! We know that buying local whenever you can helps shrink your carbon footprint, but you can't get more local than eating food grown in your own home!
Here's how to get growing:
Keep the seeds from tomatoes, cucumbers, and even strawberries to grow new plants! Try sprouting your seeds in eggshells, then moving your young plants outside or into larger indoor planters when they're ready.
Grow new onions by simply placing the leftover root end in a pot under a small layer of soil.
Stick toothpicks in an avocado pit, then prop it up in a small glass filled with water. The pit should be about half covered, and will start to grow roots in about a week or two. You can use this same technique with sweet potatoes and even pineapples!
Sprout new lettuce by placing the root bottom of a head of lettuce that's already had its leafy goodness chopped and eaten into a glass of water. Leave it in a sunny spot for a few days and you'll notice new leaves begin to form!
Share a pic of your at-home propagations and you could WIN!* Tag us along with the hashtag #SummerEcoActivity: Don't forget to follow our page & like the official launch post to qualify for a mystery prize!


Earth Rangers is working to protect an important red knot stopover habitat at Bahía de San Antonio in Argentina. By making sure they have enough food, water, and rest when they make their way down south, we can help the red knots complete their long journey from Canada to South America and back again! Help these amazing birds have a safe and successful migration by adopting a red knot, and for a limited time, we're giving you 20% of Red Knot and Patagonian Sea Lion Digital Wildlife Adoption Packages in the Earth Rangers App to help get you started!