We Canadians are known for our kindness and hospitality, and as Earth Rangers we know that applies to all creatures, human and otherwise! So like good hosts, let's build a butterfly snack bar to help our fluttering friends have everything they need as they get get ready for their long journey south for the winter.
First prepare your buffet's main course:
Mash up a banana and put it into a saucepan.
Add in ½ cup of dark brown sugar and 1 cup of water.
Bring the mixture to a gentle simmer, stirring every couple of minutes. Once it's gotten sticky, but still runny, remove it from the heat and let it cool.
Now build your serving platter:
Punch 3 holes around the edge of a paper plate (our favourites are the compostable ones). Spread them evenly so the plate hangs nice and flat.
Tie a piece of string to each one of the holes
Tie the strings together with a knot at the top and hang it outside. Be sure to choose a place close to flowers!
Drizzle your mixture onto the plate, adding some cut fruit or fresh flowers.
While you're waiting for your dinner guests to sample your sweet treats, share a pic of your butterfly snack shop and you could WIN!* Tag us along with the hashtag #SummerEcoActivity, and don't forget to follow our page & like the official launch post to qualify for a special mystery prize!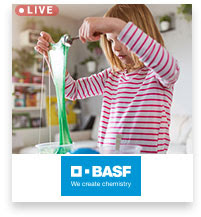 Did you miss out on our last SLIME TIME? Don't worry, we've got another fun and interactive Kids' Lab TODAY at 2pm EST on our Facebook Live, thanks to our friends at BASF! Get ready for some fun science experiments you can easily do from home! Start collecting your ingredients now so you'll be ready to join us as we discover Playful Polymers!
Here's what you'll need:
5 tbsp of Elmer's washable glue or another craft glue
¼ tbsp of baking soda
Food colouring (2-3 drops)
½ tbsp of contact lens solution (Renu brand)
Be sure to follow the Official Earth Rangers Facebook page and log on for 2PM EST TODAY so that you don't miss a moment of animal-saving, scientific fun! If you can't make it at exactly that time, come back to our Facebook page a little later to access the video after the live stream for some on-demand scientific discoveries!