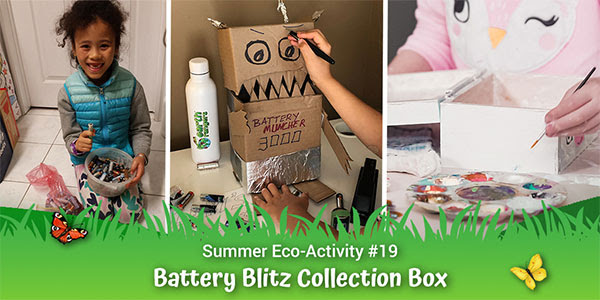 Hey techie families! Here's a CONTEST to get you really charged up!
Did you know that properly recycling the batteries in your remote controls, toys, and other electronics can help protect animals? Batteries that go out with the trash end up in landfills, adding to solid waste that can be harmful to the environment. That means that when you take used batteries to a battery drop-off location, you're doing the planet a big favour!
This Battery Blitz starts with a place to store all the dead batteries you find, so let's get those creative juices flowing and craft your in-home drop-off centre: your official battery box!
Build or design a battery collection box to safely store dead batteries you find around the house. Make your box as creative as possible – the sky's the limit!
Collect dead batteries from around the house and safely store them in your new collection box. Tip: Safely store them by either placing each battery in a clear, sealable plastic bag (which is recycled at the battery sorting plant), or by taping the ends of the battery with electrical tape or duct tape.
Snap a pic of your battery box, fill out the official entry form​ and cross your fingers – just by helping properly recycle your batteries, you could WIN awesome prizes*!
The Battery Blitz grand prize includes a mountain bike, helmet, handle-bar light, and an Earth Rangers water bottle… everything you need for epic adventures! PLUS one winner will be drawn from each province and territory to win a $100 iTunes gift card!*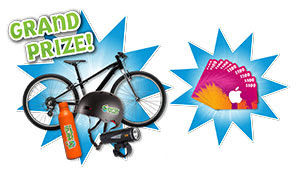 Once you've collected lots of safely sorted batteries later on, send us another pic to show us your haul before you drop them off at the battery drop-off location! Want to learn more about how properly recycling batteries can help animals and our planet? Accept the Battery Blitz mission in the Earth Rangers App! Once completed, you'll earn bonus points to help you level up!
Plus: You have another chance to win a mystery Earth Rangers prize pack from our summer contest: share your pic on social media, tag one of our official channels and #SummerEcoActivity to enter that draw. Easy peasy! This contest ends next week, so tag us before time runs out!