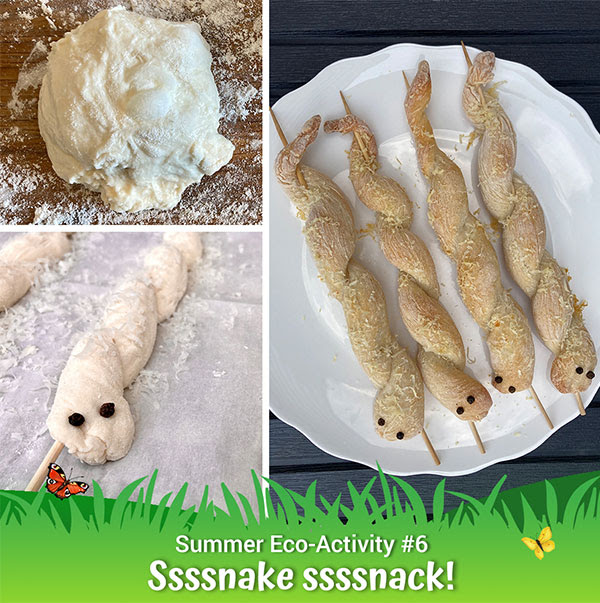 Today is world snake day!! Ssssscelebrate by ssssnacking on sssnake inssspired refresssshments!
What's all the fuss about? Snakes are sssssuper important in balancing out ecosystems all over the world! They often sit somewhere in the middle of local food chains, taking roles as both predator and prey. Plus, they help keep pest populations down by feeding on small rodents that can damage crops and carry disease. Don't worry, the ssssnake ssssnack we have in mind is quite different than what's on their menu! Breadssssticks anyone?
Materialssss & Ingredientsss:
1 package store-bought bread dough
10 wooden chopsticks
3/4 cup fresh grated parmesan cheese
20 whole black peppercorns

Ressscipe:
Preheat oven to 350F and line 2 baking sheets with parchment paper.
Divide bread dough into roughly 1/4 cup portions.
On a lightly floured surface, roll portions into long, round snakes! Keep one end slightly larger (for the head), and roll the other end to a thinner point (for the tail).
Wind each 'snake' around a chopstick. Place them on the baking sheet so that the head is facing upwards.
Place 2 peppercorns on the head of each snake to make the eyes, and sprinkle the parmesan cheese on the snakes evenly (and generously).
Bake for about 20-30 minutes or until lightly browned.
Serve with melted butter, marinara, or your favourite dipping sauce!
Snap a photo of your completed activity and share it with us, tagging one of our official social media pages along with the hashtag #SummerEcoActivity for your chance to WIN an Earth Rangers mystery prize pack! Make sure you also like and share the official contest launch post and follow Earth Rangers to complete your entry!*

Hungry to help Canadian snake populations and other awesome animals who share their habitat? For a limited time, digital Eastern Milksnake Wildlife Adoptionssss Packagessss are 20% off!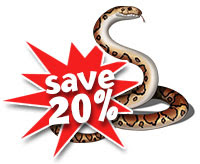 Adopt an Eastern Milksnake in the Earth Rangers App to help support the Meadoway Project! Since females usually only lay eggs once every two years, eastern milksnakes are especially vulnerable to population declines because it takes them a long time to recover. Read this article on the Wild Wire to learn more about the Meadoway and how protecting this year-round habitat will help hundreds of species!