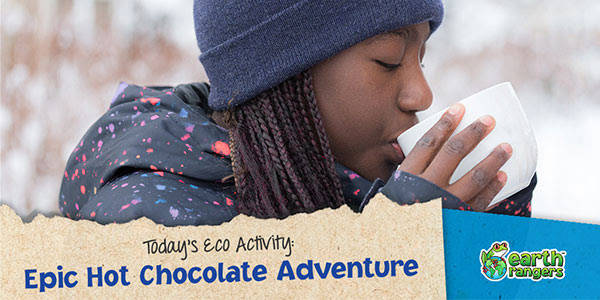 Two words: HOT CHOCOLATE! Who doesn't love a sweet treat that also warms you from the inside out!? Today we are challenging you to come up with an epic hot chocolate recipe to accompany you on your next outdoor adventure. Whether you make yours from scratch, or use your favourite mix, it really makes a trip outdoors feel even more rewarding if you can cheers your family members to a fun day (or even just an hour) outdoors!
You can even take your delicious drink to go! Put it in a travel tumbler to keep you cozy while on a winter walk OR have all of your ingredients ready before you get your boots on so you're ready to warm up upon return!
Here are some ideas to make your creation as EPIC as your outdoor adventure!
Cookies & cream: add a big swirl of whipped cream on top, then sprinkle on lots of crushed chocolate cookies
Candy cane: dip the rim of your mug into melted chocolate, then press into crush candy canes for a festive rim
Spicy hot chocolate: add a sprinkle of chili powder and stir
Oh Canada: add a tablespoon of pure maple syrup and stir, then a swirl of whipped cream, top with red sprinkles
Melting snowman: put 3 large marshmallows together (you might want to use some melted chocolate to "glue" them together first), use pretzels for his arms to rest on the side of your cup, finish with mini chocolate chips for the face and buttons (chocolate sauce can work too if you have a steady hand) – yum!
We want to see your creations in the wild – that can even mean your own yard! Share a pic of you and your family spending time outdoors with your sweet treats – and don't forget to tag us when you do!