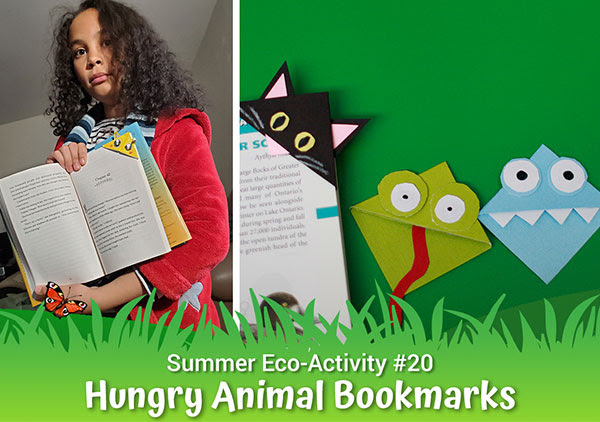 As the summer is winding down and most of us will be once again hitting the books, we wanted to craft some cute page-corner bookmarks to help us stay organized this school year. Make your very own bookmark that makes it look like your favourite animal is taking a bite out of knowledge with you!

Here's how:
Using a ruler, draw and cut out the template above, ideally on thick recycled paper. It should look like triangles attached to a square.
Decorate what will be the inside area of your bookmark (once it's folded, colouring it can be tricky!).
Fold one of the triangles inwards and apply glue to the side that faces up.
Fold the other triangle over top of the first triangle and make sure the two triangles stick together.
Decorate the outside of the bookmark, turning it into your favourite animal. Just be sure that all of its pieces are flat so that it will fit nicely in a closed book. We recommend sticking to markers, paint, and paper. Put the googly eyes aside for your next craft!
Share a pic of your new bookmark and you could WIN!* Tag us along with the hashtag #SummerEcoActivity, and don't forget to follow our page & like the official launch post to qualify for a special mystery prize!

Not only does today mark the release of our FINAL #SummerEcoActivity, today is also #WorldWildlifeDay!
To celebrate, ALL of our Digital Animal Adoptions are 50% off ONLY in the Earth Rangers App!
What do you get in your virtual kit? Only the best for our awesome members of course! That means:
A virtual badge
A virtual animal to accompany your avatar on the home screen in the app
A cool bonus item for your avatar
A virtual adoption certificate