"We want to thank the academy for this award!" The Academy of Interactive and Visual Arts that is! Earth Rangers is thrilled to be the recipient of THREE 2022 Davey Gold Awards for Best in Show in the podcast category. The Big Melt won gold in the sustainability category. The Earth Rangers podcast featuring Earth Ranger Emma won the top award in the scripted and educational categories.
The Davey award's namesake is from the story David and Goliath. David defeated the giant with a big idea and a little rock – something that small companies and organizations do every year. As the award's founders are well known for saying, "Creative Davids derive their strength from big ideas, rather than stratospheric budgets".
The judges are anything but small! Members from the Academy of Interactive and Visual Arts include executives from Disney, GE, Microsoft, MTV, Sesame Workshops and more.
The Earth Ranger podcast stars the intrepid Earth Ranger Emma, who travels the world to learn about animals and solve some of nature's biggest mysteries.
Sounds like something your kids would enjoy? We recommend either starting at the very beginning or jumping in with our current story arc surrounding the mystery of "Adelia Goodwin's secret journal".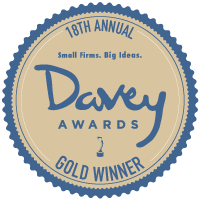 The Big Melt is for a teen audience featuring Sarah who is on a mission. She tackles climate change head on by getting real about what's happening to our planet.
Learning about the environment and eco-action by listening to podcasts is a powerful way to engage children. Kids who participate in Earth Rangers are significantly more optimistic about the future of the planet and confident in their ability to make a difference. This has never been more important, as we increasingly see the impacts of climate change in real time.
We are honoured to be recognized by the Davey Awards and offer congratulations to all the other candidates and winners.